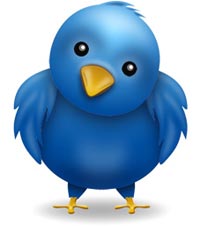 In the past week, I got the following questions:
What is Twitter?
How to Update on Twitter? (After me advising them to add some updates)
How to get Followers in Twitter?
The answers for these questions and some basic twitter guidelines are explained here.
What is Twitter?
Twitter is a Social network, and what makes it different from other social networks like Facebook, Orkut or MySpace is the way people socialize. Twitter is like an open Chat room. Everyone answers just one question; "What are you doing?" and the reply cannot be more than 140 characters. The intention is to let the world know what you are doing right now, thanks to the mobile support on twitter.
Who is on Twitter?
Barack Obama, Britney Spears, All A-listed Bloggers, Celebrities, Politicians, Techies, Web Enthusiasts, Real people, and me (lol).
How Twitter works?
To start with, you need to sign-up at twitter. You will get a profile page @ twitter.com/yourname. Everyone out there has a similar page and this is the page where your updates will be seen. You can subscribe to the updates of another fellow twitterer (usually referred as tweep) by pressing the 'follow' button near the profile picture on his profile page. That's how you keep track of what he is doing. The updates from your friends will be shown on your homepage.
The best part of twitter is that, you can reply to your friends updates. Press the small arrow near his update (or type in @his_user_name in your update box) and type in your reply. He will get it in his @replies section of his profile.
To send an @reply the recipient doesn't have to follow you!  Image how cool it would be to talk to Barack Obama in person!
You can also send Direct Messages (DM) to your friends, but only to the people who follow you. DM's are private to you and your friend.
Update:
Recently, twitter changed @replies to @your_user_name and they call it mentions. Whenever someone mention your name in a tweet, it shows up in the @your_user_name section on your twitter sidebar.
How to Update on Twitter?
Do you see the text box that asks: "What are you doing?" Enter some text there and press 'Update'. That's your first update!
How to get Followers in Twitter?
Having a long list of followers is a mark of credibility in twitter. There is not shortcut, but do these basic steps.
Upload a profile picture that looks real just to prove that you are a real human. The o_O image sucks. If you don't like to be seen in public, upload your dog's image, let him be the star. (Upload picture is under Home >> Settings >> Picture)
Write something in your bio. If you don't have anything to say, just say 'Hello" (Home >> Settings >> Account >> One Line Bio)
Make some updates. Others like to follow only real people and real people will be always doing something. If you are not doing anything, just say that you are sleeping.
Read Breaking the Twitter Etiquettes from The Daily Blonde, that's a Good Start.
Don't be a link Whore, and don't be there just to sell your products, be social.
Show community love, follow others.
Use a twitter client. It makes tweeting easier and fun. I Recommend Tweet Deck.
You can start by Following me, and I will follow you back!
Enjoy Tweeting 🙂