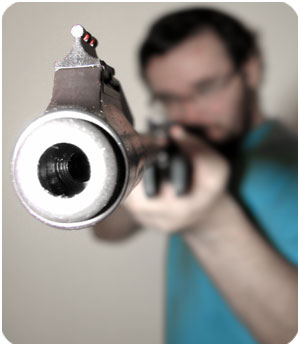 The homepage of your blog may not be the best page to show a new visitor for the following reasons.
The homepage may not have the posts that he is interested in.
The homepage may not have your best posts that can impress a first time visitor.
Mostly the homepage has too many articles, so the visitor confused to make a choice, so he probably quits.
What do you think? A visitor will turn into a Subscribed reader after reading some of your best posts or after just scanning your homepage? It's only after a visitor like at least one of your posts and finds that you have something valuable to offer, he will decide to keep reading you.
In many cases, people land on your homepage via Social Media Links, Links you leave on Guest Posts, Comments, Forums, and Email Footers and via Google.
We cannot control the visitors from Google, but see we can control the rest of the sources!

The Right Link for the Right Source
Links on Social Media Profiles
These days everyone on the social media has a link on their profile, so people often never checkout the sites before adding you up. A link relevant to the Social media would improve your click through. Let's see an example.
On my Twitter Profile, I have a link to the Twitter Quick Start Guide. That guide has brought me lot of Kudos for its simplicity and ease of comprehension. Even if all those who add me do not read it, many have tweeted out that link right after adding me and some have read it just out of curiosity (and sent me their replies). I am sure that they would never have come over if it was my homepage link there instead.
So as a thumb rule, on your social media profiles, use the link of a post that you think the members of that community would love to read. If you have a post titled, "10 Killer Reasons why you should Digg" use that on Digg and like wise.
Comments and Forums
When you leave a comment or reply to a thread in a forum, people who read what you have written would love to know more about you.
Suppose you leave a killer tip in one of your comments on a site, (which definitely adds to the value of the post), a reader would be curious to know more who you are. How do you satisfy his curiosity?
Use the link as the link to your 'About-Me' page. When people hover over your links, they instantly know what it is. Combine this with a sticky about-me page, you are good to roll! (My about page is of no good, don't use that as a model 😛 )
Some more tips on choosing the right link for commenting are available here. Thanks to Mark Pack!
Guest Posts
A custom landing page really helps in converting. When I Guest Posted on DBT some while ago, I used this custom page and it really worked! The bounce rate was below 10% and a few of them contacted me via email!
Jade Craven in her post at ProBlogger explains how to build a good landing page. See how you can improve the effectiveness of your next Guest Post with a Killer Landing Page!
P.S.: Once I asked her how this Guest Post worked for her. It was a Guest Post on landing pages and I was pretty sure that everyone who read the post would see her landing page to see an example. She said the same, it really worked for her! Kudos! (see its still working…)
Another option is to link to one of your best posts instead of the homepage. If you have one great post that you think would interest the host's audience, use that.
For instance, in this Guest Post titled "6 Useful FeedBurner Features that are Normally Ignored" the author Mr. I from Blogging With Success left a link to one of his best posts "101.5 Free Tools and Services for Bloggers". I even forgot to comment, and rushed on to the landing page to read it, I bet many did the same.
Email Footers
I would say that the homepage is the best link on the email footer. We email our friends and acquaintances or reply to those who contact us. They know us already, so there is no point in trying to mess up the email with long links. Leave the homepage link, so someone who doesn't know of your blog yet, has a chance to see it.
Best Tip of all: Feel compelled to Experiment, if you don't, you never innovate!