I think, URL shortener's took off along with twitter. Before that, the only one I had heard of was tinyurl.com. When tinyurl links started getting the bad-boy image, I switched to tr.im and u.nu.
Tr.im is good; I loved their statistics and the idea of choosing custom URL's, but now tr.im is closing down. U.NU is amazing for its simplicity and just-what-you-need style. (I don't use bit.ly just because everyone else use it.)
Then one day, I tried Su.pr – the StumbleUpon baby. Its amazing.

The SU.PR Edge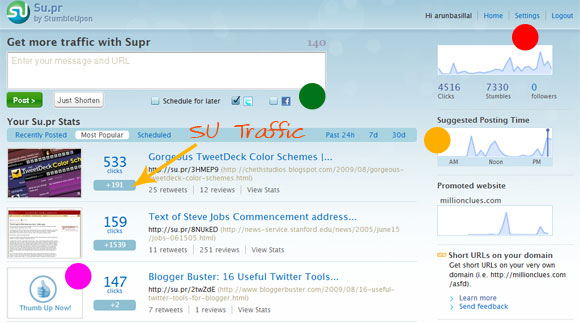 Central Control of all your Links and Detailed Stats

Su.pr lists all shortened links along with quick stats on a single page. You can easily say, which did well and which link flopped. Statistics are comprehensive with the re-tweets, traffic sources and of course, the traffic from StumbleUpon and other sources.
Promote Your Own Blog
In Su.pr settings (above red dot) you can specify up to 3 domains. When Su.pr links are used, the target page will contain a sidebar. Links from the promoted websites that are popular on StumbleUpon will be shown here. So with every tweet your links get more exposure.
More Traffic
With the Toolbar and Sidebar in place, the links get easily thumbed up and reviewed brining more SU Traffic. In my case, the SU traffic is much more than the twitter traffic (below red).
Suggested Posting Time
Su.pr keeps track of the performance of your links, analyses them and suggests the best posting time for each day (orange). So now you know when to shoot that ace link of yours.
Schedule Tweets
What if the best posting time is at 2.00 am? Just schedule the tweet. (Green)
Post to Twitter and Facebook
Once you allow Su.pr access to Twitter and Facebook (via settings), you can post status directly to Twitter and Facebook. (Green)
Thumb Up and Review
For links not submitted to StumbleUpon yet, a "Thumb Up Now" link (pink) is shown instead of the thumbnail. You can Submit the link or write a review – the links are ready for you.
You are always Credited
Its not easy to find amazing unique links. When your tweet comes in someone else's time line, he owns the tweet. He can choose whether to credit it back to you or not. But with Su.pr, the links you shorten always carry your name to it, you are always acknowledged.
Su.pr is really working for me, it took a couple of hours to get used to, but now its perfect. Thanks to Ishan for pulling me into it.
Which shortener do you use?