Technically, this blog right here is my second though I would like to consider it as a continuation of the Blogger one. Back in 2008 I was no WordPress expert guy. I was merely someone who looked up stuff on the internet because I couldn't think of anything more fun to do, and of course eventually blogged about it.
Then I met WordPress and she completely changed my life forever. It got fascinated by how you could add bits and pieces of code and see her do things to me which I never knew was possible. I wanted this blog to be my home for everything I had an interest in.
I like to think of myself as an organized person. I started on a piece of paper and thought about all the things I wanted to write here. Then I made categories and sub-categories for all of those niches I wanted to touch. 32 of them. Big mistake.
Since my permalink structure was and is /%category%/%postname%/ the links looked like https://millionclues.com/problogging/wordpress-tips/wordpress-themes/the-title-of-the-post , very long and ugly. It was very evident on Google searches.

And what happened was, I never really wrote on all those niches I had in mind. I got hooked to WordPress and as you can see, most of my posts are about WordPress and Blogging.
I got a chance to correct this when I started Kuttappi.com. There I have just 5 categories, no sub-categories and lots of tags that act as sub-categories. Everything that I write in there fits into one of the categories and tags act as sort of grouping related articles together. Works elegantly.
That is what I would recommend for any new WordPress Blogs. Use few broad categories and use tags wherever necessary to group articles.
And today I sat down and finally made it straight here. Here is what I did:
1. Used the Bulk Post editor to move all posts from the sub-categories to its relevant top category. For this I filtered the posts by category, then selected all posts and in 'Bulk Actions', I chose 'Edit'.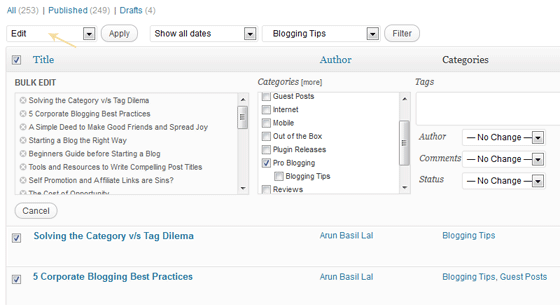 2. Now this will change the permalinks of all those posts. Thankfully, WordPress have an in-house redirect mechanism and yes, it is a 301 redirect. For instance, this old link will redirect to this new link now, all taken care of by WordPress (and no additional plugin or .htaccess). There doesn't seem to be any official documentation for this, but in this thread a WordPress Happiness Engineer (that's what they call for their support people I suppose), says it works.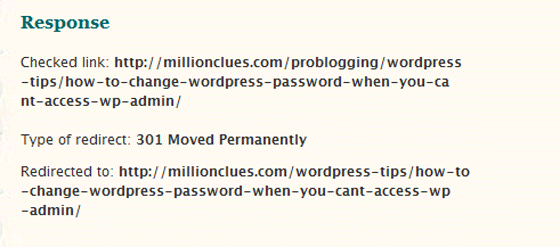 3. Deleted the sub-categories and those categories I no longer needed.
4. Then I recreated the sitemap in my fav sitemap plugin, Google XML Sitemap Generator so that next time Google comes to say Hi, they will know that somethings different.
So that's the story of how 32 categories came down to 9. Hope you picked up something from this. They say, "It is never too late". How true!