Don't ask me "Who the hell is John Chow?" If you don't know him, you are missing the best of blogosphere. Looking for a clue? Every successful blogger reads John Chow dot com. (Who told me this..? I read John Chow and he told me this). He is the legend who made $371.17 on this first month with Google Adsense (I made $1.7). But legends have limits. Presenting some crazy things that John Chow can't dream of doing. lol.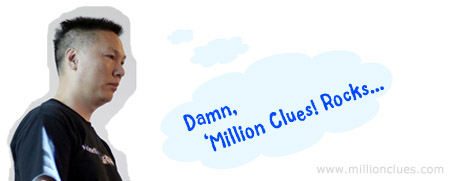 John Chow can't see his Feedburner Count 100. Why is that? Its already 40k, yes that's 40,000. If he really wants to see his chicklet counting 100, let Photoshop help him. Even God can't.
John Chow can't beat me in my Alexa rankings. (Dude, your Alexa ranking is over a million, and he is close to 18k, are you crazy?). Okay, Google Page Rank 6 is better than PR 3, then why is Alexa rank the other way..? (The smaller, the better). I am waiting for the day the whole idea of Alexa rank reverses. John Chow can't beat me anyway.
(By the way, on 07.11.2008 my Alexa ranked 3,096,579 and its 1,907,040 now, thanks to the traffic)
John Chow can't take a week's break. Can he? Its not that he would stop earning, He would loose his authority. John Chow says, 'be consistent' and if he starts breaking it and stop posting for a week, he loses his identity. I have never told you to be consistent. I can take breaks, lol.
John Chow can't write a post here, because this is my blog. (Lol. At least this is some place where I can write without permission.) Even if he thinks of writing here, I am the one who should give him the permission.
John Chow dot com cannot stay silent for an hour. I have times when there are no visitors for a whole hour; I guess that's not with John Chow. He gets at least 50,000 visits a day. That means 2083 visits per hour, 34 visits a minute and over one visit over 2 seconds, and that's a minimum guess. So by the time you finish reading this, (I don't say that you have to, but in case), John Chow dot com will count at least 100, only if you don't start skipping lines in between.
John Chow can't see a $100 Google Adsense Check addressed to his name. He is making thousands a month from Google and there is no way that it can go down to $100.
John Chow does not appear on Google Home page. Google for 'millionclues' and you will see links to my blog as the first search result. Google 'john chow' and you will not see even a single link to John Chow dot com. The first result I got was to Johncow.com (not John Chow, its Cow) (And with a Page Rank of 6, this is embarrassing for John Chow.)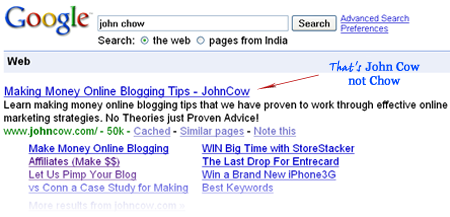 Guys, I started reading John Chow and fell over it. Damn, I wanted to beat him someway (still want to), Couldn't think of a better idea to do this. Please DO NOT VISIT JOHN CHOW (if you have not already). It's so crowded that you might find it hard to breathe.