Remember Nokia 3310? It was the most user friendly phone in India back in 1999. I had purchased one in 2000 (Rs 5500 then! About $115) and it's still in service! It has never been repaired and I have replaced the battery just twice. What more can you expect from such a low end phone?
I was reading about China's Electronic Waste Village from a Yahoo Group Ritemail when I realized that, by not throwing away the phone, I was helping the world stay Green. Here is a snap from the Waste Village.
The village is unclean and the living conditions are pathetic. The problem of e-waste is very relevant and mobile manufacturers have already started making fully degradable gadgets. But what do we do with those already existing phones? Before you think of throwing away that old phone of yours, here are some suggestions.
Putting Old Mobile Phones into Good Use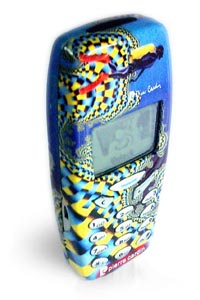 Mod the phone and give it a facelift!
This is what I did with my Nokia 3310. I managed to get a funky case for the phone (see image, it's a real photo!). The best part is that, every time someone sees my phone, they want to know where I got the case. It gets more attention than the Nokia 7610 I have.
Low end Phones are Secure
No phishing, No Virus alert and nothing to worry about. If you don't use your phone for on-the-move emails or tweeting, then get that low end model from your closet and stay away loss of data, and loss of peace-of-mind.
Who wish to steal my Nokia 3310?
The phone has no resale value, you can't sell it to anyone, and then who will steal it? So if you are traveling in a fully packed train, you should consider that cheap phone instead of your BlackBerry.
Use it as a Standby Phone
Even an iPhone can stop working at some point of time. Think of missing that important Valentines Day call? You don't have to throw away the old phone, keep it as a standby phone. Remember to charge the battery once in a while to keep it healthy. Do you have a second mobile connection? Then I bet your old phone is already in service.
Nokia 3310 is good in coverage
This has been successfully tested in comparison with my Nokia 7610. 3310 could catch network signals when 7610 showed nothing.
Old is Gold
I adore my 3310 because it was the first mobile in the family. Back in 2000, not everyone in my neighborhood had a mobile phone, so it was a star in those days. After 5 or 10 years, many people wouldn't have seen a Nokia 3310. So preserve it for your kids. Let them play with it!
More Ideas?
Do you have an old phone? What have you done with it? Share it here and yes, if you have images, send them to me. I will post them here 🙂