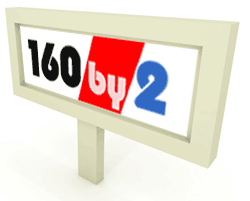 SMS portals that allow you to send Free SMS via GPRS or via internet are very popular. 160by2 was one of the first such portals in India. The mobile portal of 160by2 is fast loading and clean and it was my favorite Free SMS portal via GPRS. You can even send an Email as SMS using this Free SMS service.
I had written a review of 160by2 some time back; read more about 160by2 and learn how to send Free SMS via internet or GPRS. That's not the focus of this post. 160by2 has something more in store!
Free Advertisement from 160by2
If you have a product or if you are into affiliate marketing, then now you have more reasons to love this Free SMS service. 160by2 offers free advertising to its users worth Rs 5000 (over $100). This service is actually an ad-supported free service. As the name says, its 160/2 = 80 each for the user and the advertiser. The user can use the first 80 characters to actually send the SMS, the remaining 80 characters of the SMS is ad-space. This is where your ad is going to appear!
Once you have successfully registered with 160by2 using your mobile number (and logged in, of course!) go to the My Ads Tab. Everything else is self explanatory, you just have to key in the content of the ad. You can also decide the budget for the ad, so you don't have to finish up the whole 5000 bucks on a single ad. You can have multiple ad campaigns.
You got more mobile connections? Each connection is a multiplier, so if you have 3 mobile connections, you get 3 X 5000. Wow! That's Free Advertising worth Rs 15,000. You have to create three separate 160by2 accounts and each account gets ad budget worth Rs 5000. Now you can advertise for Rs 15,000.
All ads are manually verified and edited if necessary, so it's impossible to sell those illegal software copies or you-know-what-xxx stuffs with 160by2.
Create your free ad now, and reach out to over 3 million 160by2 users from every corner of India! Sending Free SMS is a great idea 🙂