Unlike most Web-Wares, Twitter has no lower limit on the characters in the username, though; each tweet is limited to 140 characters. Writing sensible stuffs in short words is the fun part of tweeting. The username precedes all the @replies to tweets, so the shorter the username, the longer can be the message part. A longer username leaves less room for the message part.
But if you are thinking of taking a single character username, just like I did today morning, you will find that all short names have been taken. Early Bird Catches The Worm! Let me honor the early birdies.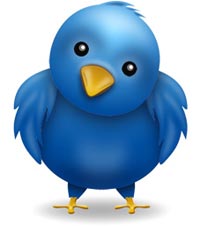 Glossary Search:
Twitter : Popular micro blogging platform, details here. (Now that's what I call a base post!)
Tweepl : is a commonly used slang for people who use twitter a.k.a tweeps, a.k.a. twitterer a.k.a Tweeps

The Tweeps with the Shortest Names
I thought I should include the bio too so that you can decide whom to follow right from here! (Do you need a link to their profile? It's not hard to find them, lol)
Listed in the order @username – Real Name – Bio (links from bio removed and bio truncated to meet the layout )
@a – Andrei Zmievski – I'm Russian. 'nuff said.
@b – Ben Bradley – I'm like a chimney sweep, but for the intarweb toobs
@c – Coley Wopperer – I'm a very serious designer—a seriously joyous designer! Life is grand 🙂
@d – Dave – Bio missing
@e – Erin – Bio missing
@f – Fred Oliveira – Bio Designer-developer hybrid. I like to make people smile. (…)
@g – Greg Leding – Trouble is my business.
@h – Helgi Þormar – Whacky
@i – Sarah – Bio missing
@j – Juliette – UX, SF, Lumos Labs
@k – Kevin Cheng – See online
@l – Ant – Bio missing
@m – Mark Douglass – See online
@n – Naoki Hiroshima – A guy who cares nothing but his family and his friends, and what they care.
@o – Oliver Thylmann – Geek, Blogger since 2001, Entrepreneur, Performance Advertising
@p – Paolo I – Things never happened in this order. maybe they never happened at all. (…)
@q – This username cannot be used. Maybe its reserved for the search functionality
@r – Rex Hammock – founder/ceo of Hammock Inc.
@s – Sandy – I'm Sandy, your personal email assistant. I'll remember the details so you can (…)
@t – Tantek Çelik – barcamp bicycler buildingblocks climber cultural evolution hacker (…)
@u – U – Bio missing
@v – William Lawrence – vé, ℣, vittu, & versus all stand for veeliam. And, he stands for Accessibility.
@w – Walter – exec producer of my life. Where's my cast?
@x – Gene x – photographer and friend of lemurs
@y – ReYhan – essir my aura is orchestral but way fresher!
@z – me – Bio missing
@_ – Dave Bug – Likely subjects: Woot.com, St. Louis, iPhone, politics, css/html, design (…)
@0 – 0 Zine – The most excellent home-made Zine in the world. No, the universe even.
@1 – Numero Uno – Oldest digit. I put the "uni" in "universe"
@2 – Mysteriously Unnamed – Bio missing
@3 – NewsAlert – NewsAlerts For Pakistan Without tinyURL..BBCsa & DawnNews
@4 – 4 – 4!
@5 – 5 – Bio missing
@6 – R. Adrián Lamo – I am not a number. I am a free man!! >:o" — or something like that.
@7 – Peng – Bio missing
@8 – 8 – Bio missing
@9 – 9 – Bio missing
@ArunBasilLal – Arun Basil Lal – (lol. That's me 😛 )
Guess you all were the first people to join twitter. Kudos to all of you!