We complain a lot about Spam Emails. We are often deceived and often confused with spam. When I started living online, I have even replied to a spam email that said I won $60,000 in an online lottery that I didn't even know about. I guess many of us are still confused with such emails and it's our ignorance that spammers exploit. Did you know that you were helping spammers a lot? I know you would not agree, but here is something that might convince you.
My 12 year old daughter is a heart patient and needs $12k for an open heart surgery. Thankfully AOL and Gmail have agreed to give me 0.5 cents per recipient of this email. So please save my daughter and help me by forwarding this email to all your contacts.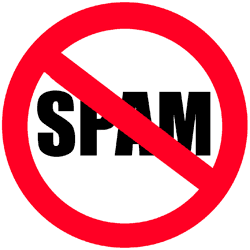 Most of us would have received something similar from some of our friends. Many of us doubt its credibility, yet we forward since we don't want the girl to die because of us. I got one last week and that's what inspired me to write this up. If you have ever forwarded something like this, you have been spamming! Here is how it works…
The email that you initially received has a lot of email address attached to it. These are the email addresses of those people to whom it was forwarded before it reached you.
You send the email to all of your friends, and all your friends forward them to their own friends.
So after some time the original email will have thousands of email addresses attached to it.
Somehow the email will reach the hands of an email harvester or a spammer. Either they will be there in some of our contacts or they will be subscribed to groups or subscription lists. Someone is definitely going to forward it to a group or a list.
The harvester extracts the email addresses using software (there are email harvesting softwares too!) and sell the email addresses to spammers. Say $1 for 10,000 legitimate email addresses, that's not hard to get.
Once the spammer has the email addresses he sends out spam emails. He can easily sent it out to one million or 10 million recipients in one click!
Even if only 0.01% of the recipients trust the spam mail and respond, he still has 1000 customers for his products. That's a whole lot of sales and lots of money. But mostly those who spend money on such emails are cheated.
So you cheated a 1000 people without even knowing it!
Does that mean that you should never forward emails?
No. But before you forward, understand that…
You will not win $50k without actually purchasing a lottery. Who will give you that kind of money?
Microsoft or Sony Ericsson never gives out free laptops or Mobile phones for forwarding emails.
Bill Gates is never sharing his fortune with some email spammers.
A heart surgery doesn't cost $12k and AOL is not going to track all your emails and give that guy 0.5 cents per email.
Gmail is never going to delete your account because it is over capacity. If Google becomes over capacity there is nowhere else in this world where you can be!
Read the best forward I ever received to get an idea of the blunders we make.
Read what Quakeboy did with such spam, awesome read!
Don't believe in all the forwards, most of them are pure scam. Here is the Ultimate Myth-Buster of e-mail Forwards.
Safe Practices to Fight Email Spam
Forward only those emails that you are very sure about. Else you are staking your friends and your own safety.
Before you forward an email, DELETE the email addresses that precede the content of the mail.
Add your friends email addresses only to the BCC field. BCC means Blind Carbon Copy i.e. the recipient will not be able to know who else received the email.
Create private groups in yahoo and google and send the forwards to those groups. Tell your friends who would love to receive forwards to sign-up. And approve only known members!
Never respond to spam, or follow the links that they send you. Don't even open the emails in the spam folder.
Now the next time I receive such a spam email, I am gonna send them a copy of this post or a link to this one. Do the same and save your and your friends email from the hands of dirty spammers.