I have a habit of saving my not-so-important passwords within Firefox, like the social networking passwords, temporary email passwords and the like. Also, I never log-out of my mail accounts until the end of the day, so when my sister comes in to check her mail, gmail loads into my email id.
When I attended BarCampKerala this time I realized that there are profiles in Firefox too. But you won't find them, until someone tells you about it. That's why I decided to be that 'someone' to tell you How to create Profiles in Firefox.
What is a Firefox profile?
A profile is a collection of all your personal settings grouped under one name. If you are used with Opera, you know this well. Each profile can be considered as a separate browser, because each profile has its own settings, cache, saved passwords and even plugins.
Why do you need different profiles?
You need a profile if you need to keep your personal accounts separate from your official account, or if you share your computer with your family and you don't want to share all your bookmarks and passwords with them. And if you are a plugin developer or a theme developer you would already have profiles and would not be reading this.
Creating and managing profiles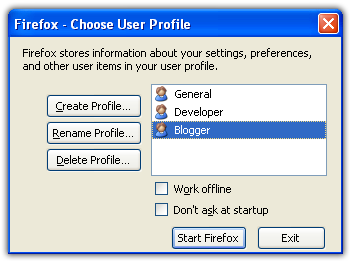 Step 1: Close all Firefox windows.
Step 2: Open the Run command box (Start > Run or Windows Key + R) and type in firefox –ProfileManager and press ok.
Step 3: Press 'Create Profile' and enter the name of the profile in the wizard and press finish
Step 4: Make sure that the Tick Box 'Don't ask at startup' is unchecked. You are done.
Now each time you start firefox, the profile manager will come up and you can select the profile that you want. You can edit and delete profiles too.
A tick box named 'Work offline' is present, which if selected would open Firefox in offline mode. You can go online by clicking File > Work Offline (so that the tick mark is removed)
You can assign a separate shortcut for each profile and start the corresponding profile without the Profile Manager window. Follow two steps.
Step 1: Make a copy of the default Firefox Shortcut.
Step 2: To the target session add -P "Profile Name" so that the Target reads somewhat like "H:\Program Files\Mozilla Firefox\firefox.exe" -P "Developer" where Developer is the name given to a profile (see screenshot too). If you have many sessions, create as many icons as you need and repeat the same.
I found this information from Born Geek where he has got a lot more Firefox tutorials and Extensions. You can also find detailed information on profile creation with screen-shots on Born Geek. Do check them out. You can also read the Firefox help on managing profiles.
Tell me if you already knew of this technique. If you had been already using Firefox profiles, tell me why you were using that for. I was wondering, why I didn't know this until now, I had been using Firefox for the past 4 years.