What do people need most when they are alone at home for weeks on lockdown? Interaction and communication with the opposite sex?
The answer is yes, judging by the current statistics about the interrelation between an enormous lift in webcam sites revenue and the lockdowns duration.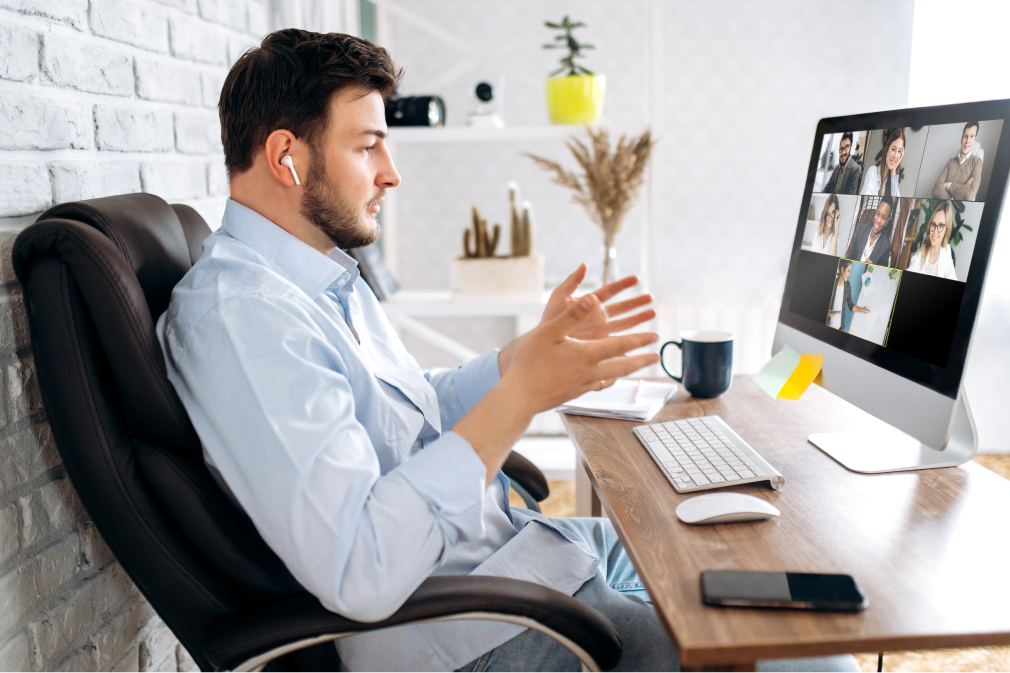 Why should you start a webcam site now?
The situation with the pandemic is a perfect push for entrepreneurs to monetize the new demand of society and start a webcam business. Now is the best time to start as the demand for new webcam business ideas is constantly increasing.
And the first thing to do is to decide what exactly you want your website to look like. Don't fall into thinking about technical nuances, you'll have enough time for that. Now brainstorm the image of your business. To do it, let's study the basics of building adult content sites for monetization of your beauty.
The Basics
The owner of the website usually has two features, where one is used more often than the other. They are:
Private stage feature
Only a model and a client, there's no one in between.
This approach suits perfectly for models with regular clients as they like them in particular. This kind of relationship is built subsequently, that is why the beginners would better choose a public performance.
Public stage feature
Public show service is good because it lets in a countless number of visitors. Usually, models set the price for an exact action and as soon as they get one, they do what was promised.
Peeking stage feature
In porn peeking genre exists because there is a demand for this. As the webcam industry is a new and modernized solution to archaic interest for porn, peeking is a good feature that works with numerous viewers. The performance in this stage is organized in a way that a viewer "secretly" watches after a model's prepaid show.
Deciding which feature to use the most is always up to the cam site owner. This choice usually depends on site visits, a number of target audience type, model performance, and the relationships that they have with their audience
6 Methods to monetize Your Cam Site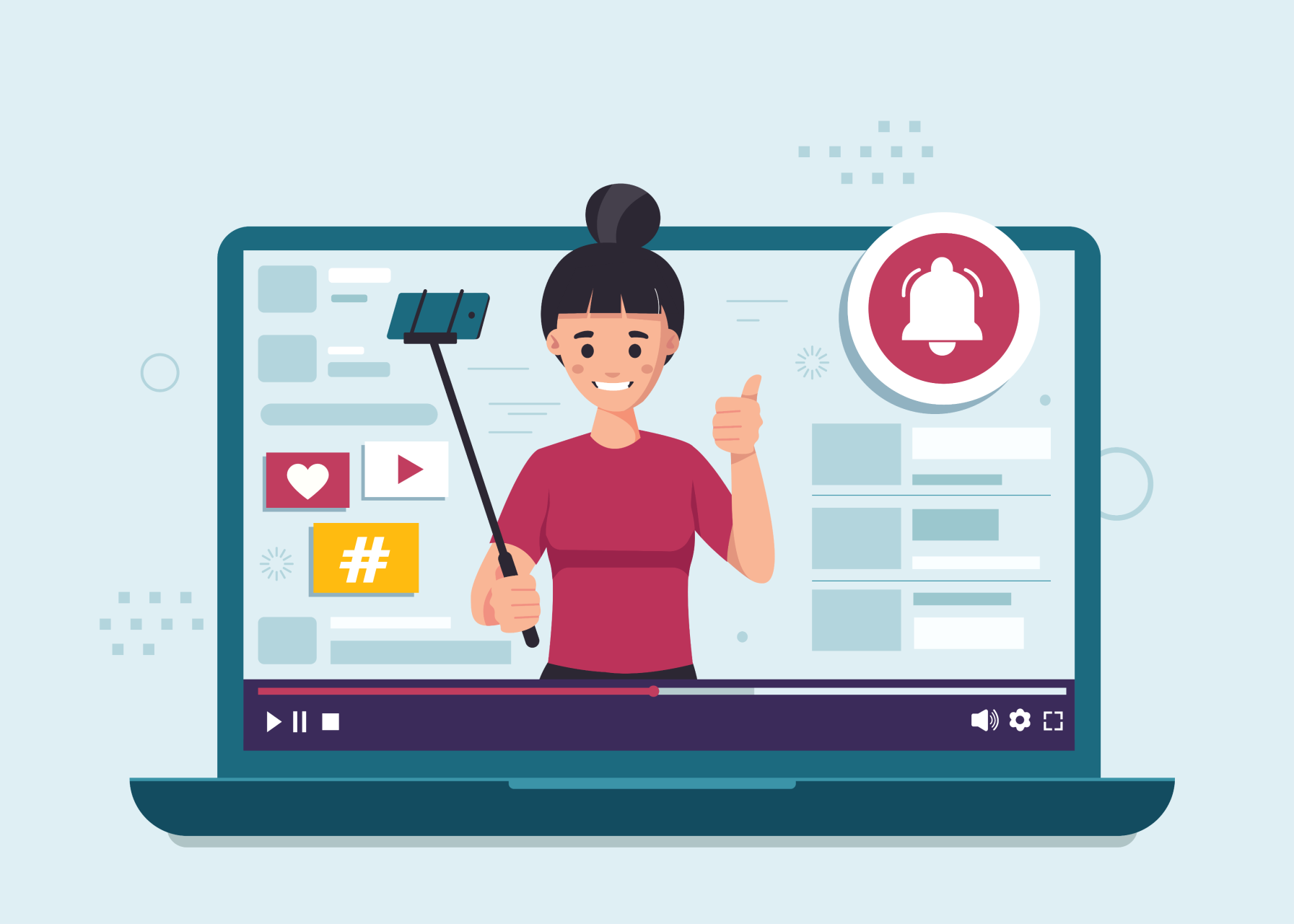 PPV Method (Pay-Per-View)
This monetization method is considered to be a traditional one. The model sets the price for their performance and the viewer pays for every minute he is watching. 
Live streaming is remarkable in sports like boxing, mixed martial arts and wrestling. For example a UFC fight between Khabib vs. McGregor generated $180 million in revenue in 2018 and showed how much people are ready to pay for being the first to see.
In webcam business viewers pay for exclusive content, for a feeling of control over the performance result. But this control can be just an illusion from the model's perspective as they are the one who decides how long the show would last.
Subscriptions tiers
A model sets their subscription tiers with differences in price and opportunities included. This method is the best option for those who want to have a regular source of income. 
To gain as many subscribers as possible the model needs to invest in building strong relationships with their viewers. 
Different subscription plans can give the viewers access to archived videos, messaging or a certain number of one-to-one meetings with a model.
Mass and One to One Chatting
A model can create a group chat, where they would get tips for exact actions. Models can be paid either for a conversation or photos up to a site user desire. 
Ads
According to the Interactive Advertising Bureau (IAB), 67% of consumers around the world prefer to settle for an ad-abundant but free viewing than have to pay a subscription fee. You can use this in your own business: get money from ads or from subscription tier that includes ad-free streams.
Donations
Can I really ask people to donate? Yes, you can!
In this case the platform allows its users to make a single donation to their favorite model for the ability to send a personalized message. The motivation for a viewer is that he can have a real interaction with the model.
One more way to ask for donations is to leave a link to your OnlyFans or Patreon account.
Affiliate and Referral Commissions
Not obvious but a really pleasant bonus for your models would be an affiliate program. Of course, it won't help you gain a fortune on your webcam site, but it will bring you a certain sum of money.
How to Start a Webcam Site Using Different Ways?
There are two ways to build a webcam site for business:
Full Stage Development
You can build your website from scratch by following a complete Software Development Life Cycle (SDLC) that includes: purchasing a domain name, a web hosting plan, a CDN and media server, encoders, decoders, and video players, adult payment solutions, hiring webcam models and, finally, building your webcam site. 
The pros are:
You can add any function or feature you want, of course, the number of these additions makes up the price.
Development of unique design
Agile system of development. If you do not approve of a certain solution in design or web development, the developers would change it. However, it takes some time and the deadline can be loose.
The cons of this option is time and technical maintenance.
The full process takes about 2500 hours. Taking as low as $100/hour for a website development  in the US , such a project will cost you at least $250,000. 
After your website release, the agency cares about the support for additional fee (or as stated in the agreement). Websites with video broadcasting functions need technical maintenance as servers can get overloaded and then run with failures. To fix such a problem you get to address either the agency or a freelance programmer, which can affect your budget several times a year.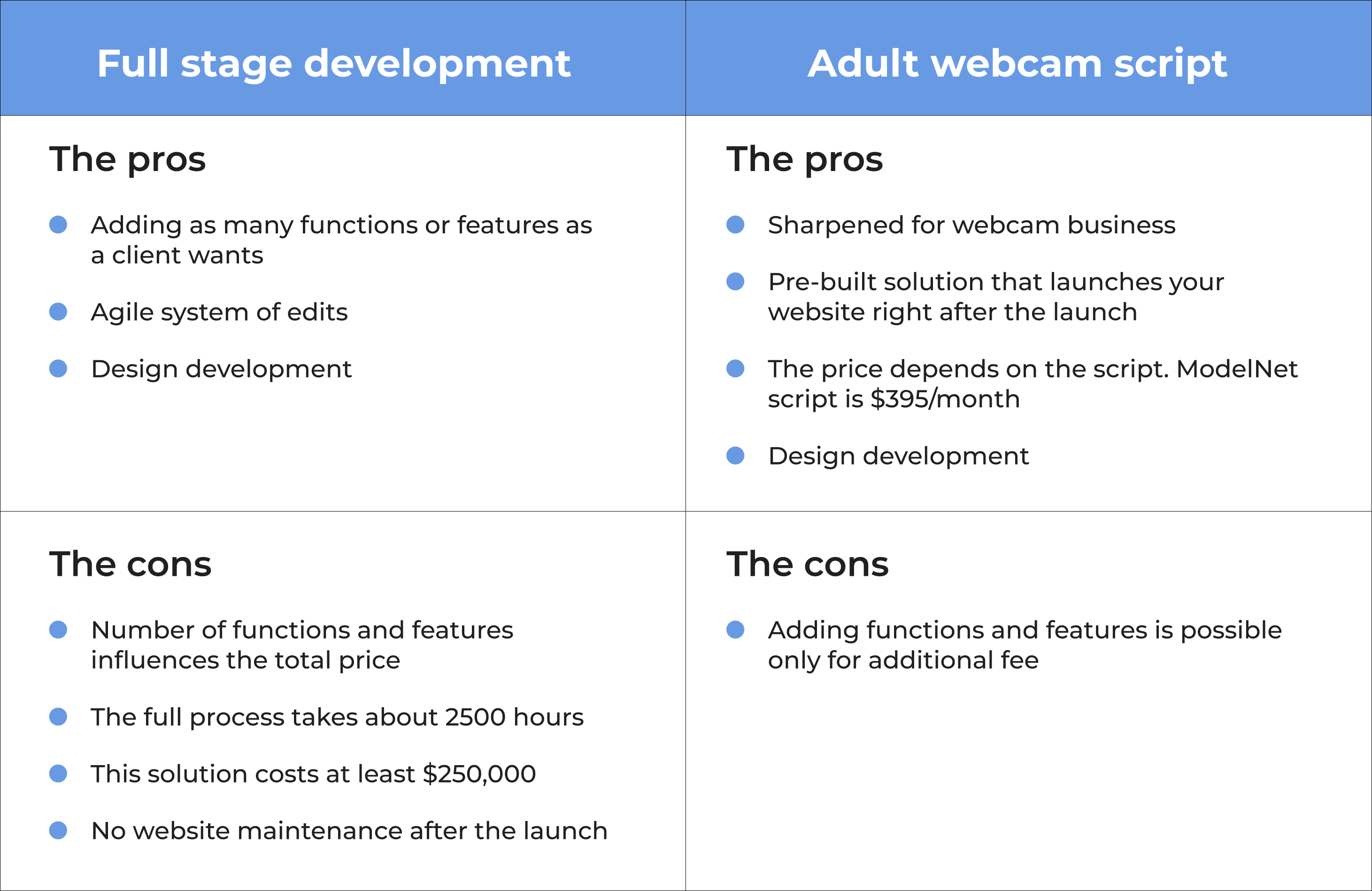 Adult Webcam Script
Using a turnkey adult webcam script to set up a webcam site without writing any code by yourself.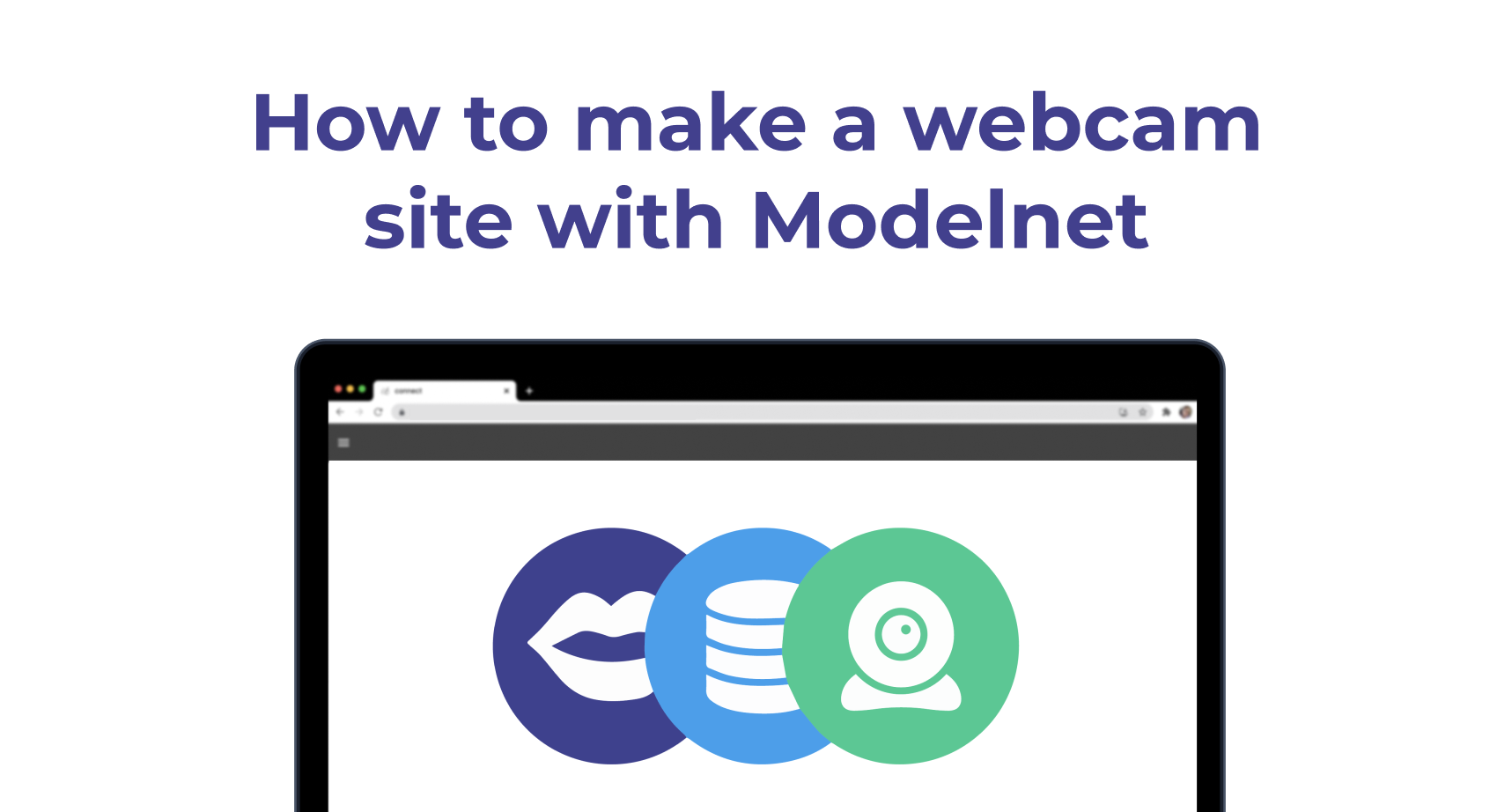 This is an alternative way to launch your cam site faster and as a result cheaper in the investment.
ModelNet script gives you an instant access to your website and provides customization of the following features of cam sites:
Webcam site design
Your cam site needs to stand out from the crowd and a unique design would help in building a brand identity. ModelNet provides a custom UI/UX design layout building to fulfill your ideas in real life.
Hosting
ModelNet provides you with a right to pick up any domain name for your website.
Sites technical support
Your website is under 24/7 support by a ModelNet team. Any bugs or failures would be fixed in time.
Custom work with sites
You can add new features to your website as a development team specializes in the implementation of new features and development of custom solutions for the platform.
Software installation
The site can be installed on our server as well as on yours, if it is demanded.
Sites update
ModelNet provided updates for your website to adapt it to the new standards, bring it novelty or just eliminate a possible failure.
Chat modes
It provides a full range of online video chat modes with different cost per minute for your customers:
Free video chat with tips option.
Group live video chat. It is a pay-per-minute chat that can be initiated by the customer. Other customers can join it too.
Private video chat. One-to-one video chat based on per-minute rate.
Voyeur live video chat. It is available when private chat is already established between a performer and another customer.
To check how Modelnet software works real-time you can request a free demo access on the website.
Adult Script Price
To run a webcam site with all the customizations listed above costs $395 per month for one site, and once additional $95 for installation.
Conclusion
All in all, building a webcam site begins with 1) defining what it will look like, 2) what methods for monetization to use and 3) what solution for building a website to choose.
Modelnet builds webcam sites that save time for development, thus providing a customization of features. When creating a cam business every day counts, so don't waste your time on searching for the best building solution, you already found it. It's ModelNet.