Digital marketing is marketing a brand with the use of the internet to get a high ranking on Google Search Engine Results Page (SERPs) and massive traffic.
The marketing of a brand is done through various activities that help in increasing the brand's visibility to its target audience. There are no quick results in digital marketing, and the growth is slow but steady.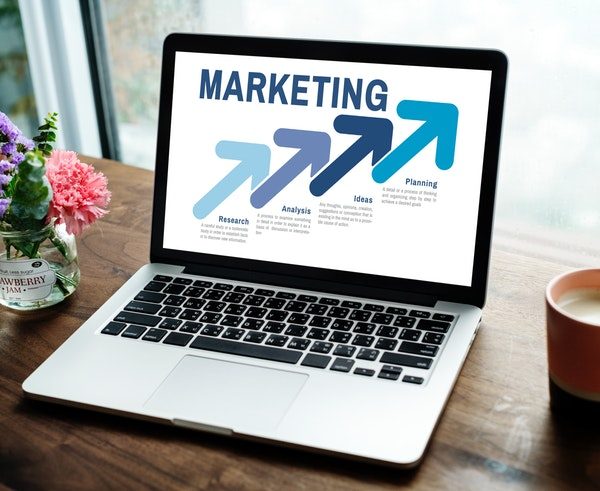 Here are 6 types of activities used in digital marketing that you should know about.
1. Content Strategy
A strategy for improving the content on a website is created which is known as content strategy. This activity involves keyword analysis, mapping the intent of the keywords, creating pages according to these keywords and giving writing suggestions for several pages.
Keyword analysis involves getting raw keyword data and sorting them out depending on their relevance. After analysis, the intent of all these keywords are mapped, and keywords of similar intent are grouped.
Sometimes the meaning of these keywords may seem very straightforward, but their intent can be different on Google. Hence, the intent mapping is vital for content strategy. The pages can now be suggested to the client according to the number of different keywords obtained after mapping. These pages are provided with writing suggestions so the content can finally be created for a particular query.
Keeping the user intent and query in mind, the writing suggestions are provided that consist of things that need to be included in the content. To get the best content strategy for your page, visit this website.
2. Search Engine Marketing
Search Engine Marketing or SEM consists of obtaining traffic through paid listings. Ad campaigns are run in SEM for a particular brand in the paid search listings which are visible before the organic search results start and are used to gain more traffic.
It is also called as pay-per-click which means that you have to pay for the ad only when a user clicks on it.
Numerous advertisers bid for keywords that a user would search for on Google. Ad campaigns are created around these keywords to target the ideal audience for your brand.
Before you even start with any of these activities, you need to perform keyword analysis to research keywords that are significant for your business and specific to your niche. These keywords will decide the kind of users that are targeted for your ads.
Google AdWords is one of the paid platforms used to advertise your campaigns. There are many such platforms to advertise your ads from which Facebook and Amazon are very popular for ad campaigns.
3. Influencer Marketing
Influencer marketing consists of using numerous social media networks for marketing your business or brand. With the trend of social media websites, influencer marketing has become a lucrative choice of marketing.
It can also be called as SMM or Social Media Marketing which helps in improving the credibility of your brand and aids in targeting potential customers specific to your niche.
Influencers of various social media sites are used to review or endorse your brand online for exposure. This can earn you good business as the followers of any influencer would like to use things endorsed by them, trusting their word.
4. Affiliate Marketing
Affiliate marketing is used as a method to get more traffic by a unique approach that involves promoting a brand. This is effective for people who are popular or have a good number of readers on their blog.
Affiliate marketing requires a third person promoting your brand and directing them to buy your product or service. The third person ends up earning a commission from you and you get profit. Digital marketers are not the only ones that use affiliate marketing.
It is commonly used by many without the knowledge of it being a marketing technique.
Your brand can earn well by hiring such third persons who are famous and popular on the web. Any person can join an affiliate program and start earning if a user directed from their page ends up buying a product.
5. Email Marketing
Email marketing might seem like a little old fashioned for today's age but half the world still uses emails and hence, email marketing does work. Predicting users and knowing their interests has become easier than before giving you the advantage of targeting the ideal audience for your business.
Many might ignore, and not pay heed to the email but if the target audience is filtered out, email marketing might prove very useful. The method is cheap and easy to follow. Anyone could handle the expertise required for this job.
Hence, email marketing is also an activity still practiced by many digital marketers.
Conclusion
These are the 5 types of activities used by most digital marketing companies to help increase the visibility of a business and further their sales. There are more elements in digital marketing that are used for building strategies to rank a brand higher and increase their traffic.
But the most important thing you should keep in mind about digital marketing and SEO is that the user is vital to your business. No trickery should be involved while marketing your service and the user's intent should be met in an ethical way.