Today I tried out one of the WordPress Plugins of @BinnyVA for a friend of mine, its named Quizzin – A simple, yet feature rich plugin that will help you do quizzes on WordPress Blogs.
This is a quick guide on how to use the Plugin.
Quizzin 101
Once you download and install the plugin, you have a very simple options window:

The check-box on the top is for you to decide if you wish to display all questions on a single page or display one question at a time.
You can choose either not to display the answers at all, or show the results after answering all the questions, or show the answer right after each question is answered (which obviously wouldn't work if you choose to show all questions in a single page).
To make a quiz, you have to go to the Manage Quiz Page listed under the Tools on the left sidebar. You will get:

Click on Create New Quiz and you can enter the Name, Description and define how the final screen, i.e. the screen after the quiz is completed, looks like.
The bottom of the page has a list of variables that you could use on the page. For example, any instance of %%SCORE%% would be replaced by the marks scored by the user. Press Save.
Next Screen looks like: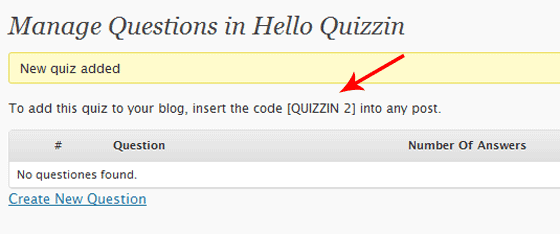 You can add questions to the quiz you just created using the link there. Note the red arrow. To insert the quiz to any page or post, you have to add that short-code, in this case [ QUIZZIN 2 ] to the page or post.
Adding questions is intuitive, you can write the question, and specify answers in the widget below the question editor. Check the radio button on the right of the correct answer as shown: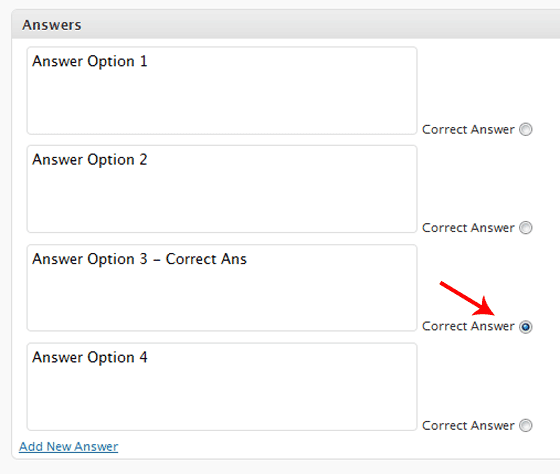 You can add an Explanation for the correct answer as well in a third widget. Well thought out 🙂
Well, if you have a lot of questions, adding one by one manually could take a lot of time. A single page editor to add multiple questions at a time is a feature I like to request.
Once you have all the questions ready, copy paste the short code (example [ QUIZZIN 2 ]) to a post and Publish it. Your Quiz is ready, just like that.
You can take a demo, an interesting WordPress quiz here on the demo page. See how much you score!
Great Work, Binny 🙂
P.S: I am pretty sure that there are other quiz Plugins available, but this plugin serves my need and since its from someone I know from the real world, I am not looking for anything else. But if you know any, you are welcome.