"It's only words and words are all I have, to take your heart away!" (Confused? Google it!)
Words have the potential to change the world (Obama?). Words give us hope, and confront us in times of despair. The digital age can't live without words. We blog with words, text with them, write them down, send them in e-cards and often fall in love with them.
So what's the big deal?
Oh, I just stumbled over a web app called Wordle. Wordle is a 'toy' which lets you create cool word clouds. It can create word clouds from any bunch of words or you can provide a RSS feed or a del.icio.us username and Wordle will automatically fetch the words, and give you a beautiful word cloud.
Guess what, you can use these word clouds anywhere, even on commercial publications. All creations are under a Creative Commons Attribution 3.0 United States License. So don't be amazed if you see one on the Time Magazine Cover! (Read the FAQ for details)
Here is a Wordle I created with the words from this post. See the gallery for more!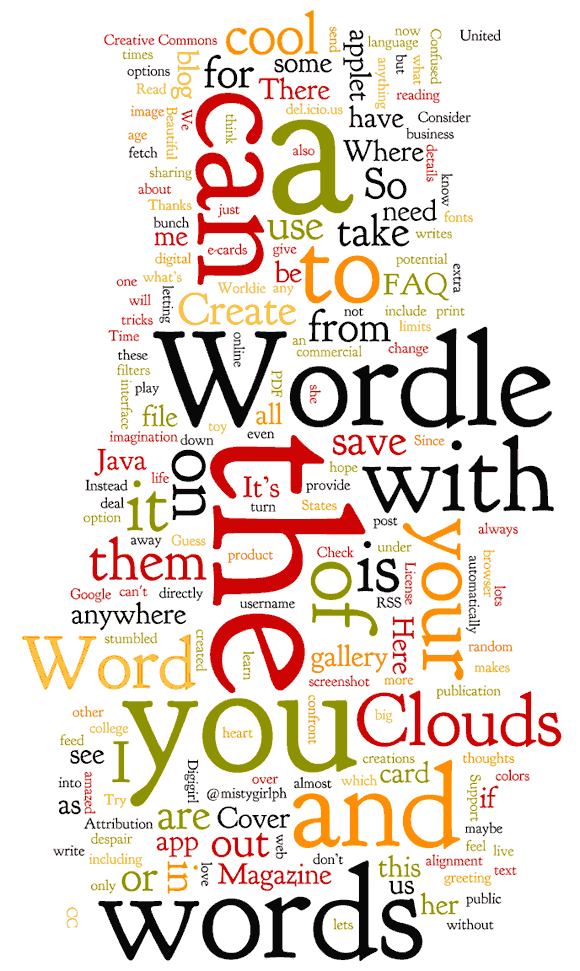 Wordle interface is a Java applet, so you need to turn on Java Support on your browser. You can save the file as a PDF or take a print out directly from the applet. There is no option to save as an image file, but you can always take a screenshot. There are lots of options to play with, including fonts, colors, alignment, and some language filters. You can also save your Wordle into the public gallery. Consider reading the FAQ, if you need to learn some extra tricks.
Where can I use it? Any Ideas?
Since it's a CC 3.0 product, you can use it almost anywhere! It can be the cover of your college magazine, maybe you can think of a greeting card, or include a Wordle on your business card. Your imagination is the limit! Try out Wordle now!
Thanks to @mistygirlph for sharing her Wordle with me (can't find the link now) and letting me know of this cool app. Check out her blog Digigirl where she writes about her online life and other random thoughts.