I was using the Free Bandwidth Monitor on my Windows XP PC, but once I switched to Vista (64 bit), the 32 bit software ceased to work.
Free Bandwidth Monitor was simple and efficient; after trying out many other softwares, I am now happy with NetWorx – A free, simple, Bandwidth Monitoring and Analysis Tool.
NetWorx does its job fairly well. Reports can be seen on last 24 hours, daily, weekly, monthly and Total. It can also show you custom reports within the dates you specify.

Here is a screen-shot of NetWorx, for more screen-shots click the image.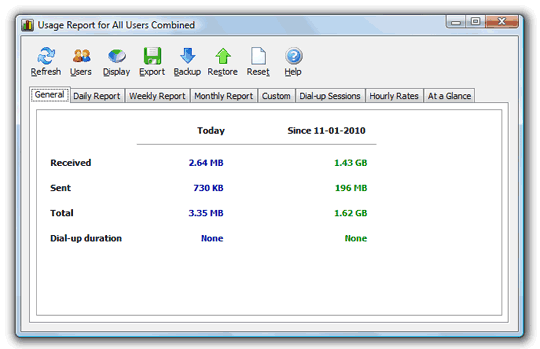 With NetWorx you can –
Find out and monitor how fast your Internet connection is.
Find out and monitor how much Internet traffic you consume.
Verify whether your ISP charges your Internet usage fairly.
Detect a suspicious network activity on your computer.
Perform simple network tests such as ping and trace route.
Be notified about excessive Internet usage.
NetWorx stays as a button near the clock, additional features can be accessed by right click-ing the icon. Its that simple.
Download NetWorx Free – Look to the right sidebar for the download link. In case you need, detailed online help is available here.