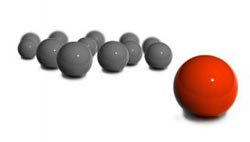 The comments that you leave on other blogs is your free advertisement, a measure of your authority and source of free traffic. But quite often the traffic is nominal.
Commenting is not an easy job. I am not talking of the "Wow, That was a nice post, Keep up the good work" type of comments. (If you had been doing that, now you know why you don't get the traffic.) To make a genuine comment you have to read the whole post, at least the main content of it, straining your eyes and killing your time.
Here are some tips to get quality targeted traffic by optimizing your comments. I had been testing these for the past one month and I have 27% of my new visitors from the blogs that I comment.
Optimizing Your Comments
Selection of Blogs: You can comment on any blog you like, but if you are commenting with the evil intention to drive traffic, then choose blogs from your niche. Such selection has two advantages. One, you will enjoy reading them because it's your own niche. Two, you will have something to add to the discussion as you are familiar with the niche.
Also make sure that the blog you choose to comment gets regular comments. If the blog does not have comments, then probably the blog does not have enough audience or the readers are reading it via RSS or Email Readers.

Thumb Rule: Select blogs from your niche that get frequent comments.

Be the First to Comment: The first comment to any post is the comment most read by the readers. It stays very close to the end of the post and everyone who reads the blog online will see it. So keep checking the target blogs again and again for any latest updates. (Or you can refresh your feed reader every 30 minutes). And when there is a new post, go there and make the first comment.

Brand Your Comments: A reader who reads the comment you posted should feel that you are good at what you are saying. You have to show your authority. I do not mean to keep the comments too professional. Instead you can provide some additions to the post.
For e.g.: You can add one more point to this post, by sharing your idea on making more traffic through comments, lol.

Comment on Popular Posts: Some blogs display a list of their most popular posts on the sidebar or footer. Those posts are popular either because they get the maximum comments or maximum page views. Make your comments on such posts and the maximum visitors will see your comments.
Longer Comments Increase Visibility: Readers don't read all the comments of any post unless the number of comments is few. They will just scan the comments section and if you want them to read your comments, you got to be seen. For that, keep your comment longer than the rest of the comments. I did not mean to put in lots white spaces. Maybe you can give an example to support what you just said. Also use emoticons because emoticons are always noticed when someone scans.

Be a Top-Commentator: Most popular blogs have top-commentator widget installed. (See the one on the right sidebar here). Such widgets are shown on all pages, plus it brings in Google Page Rank juice. Comment on blogs with the widget regularly and be on the list and you will earn Page Rank and traffic.
Get a Gravatar: Gravatars (Globally Recognized Avatars) are those small images that you see along with the comments here. A Gravatar adds some identity to the comments and make them unique. Get yourself a cool Gravatar and your comments will definitely standout!
P.S: This tip was inspired by a Gravatar which belongs to a Bird! See it here!
Never comment for the sake of commenting, readers can easily distinguish a genuine comment and a fake comment. If you just want to say congrats, do it in a special way. Recently Aravind just said that my post on the Fast Forward Button was good in a few words. Though the comment was short, I knew it was real.
So you can start practicing the above tips right here 😉 Try adding some tips to show off your authority.