A guest post by John Joseph. If you wish to write one, check out the guest-posting guidelines and details.
Number of subscribers is one of the many factors that determine success of a blog/website. Apart from all other traffic to a website E-mail subscribers are valued at priority-#1. It's also measured as the conversion rate of a blog.
How many of your daily visitors gets converted as your subscribers? It is a measure of success of your blog/website content and quality. In this period of Information Overload, people only subscribes to the best one available out there.
Building a good readership is not an easy task. You have to be a little smart with your work for that. As important is building a good number of subscribers, so is maintaining them with satisfaction. I am not here dictating how to increase your readership! A myriad of articles are available on this topic out on the web/blogosphere.
Here's a simple tip!

I would like to share a simple trick that almost doubled the daily subscription rate of one of our blog on Electronics Circuits and Devices. It's so simple! Just use an "attention graphic" just above your Subscription form, like given in the image below.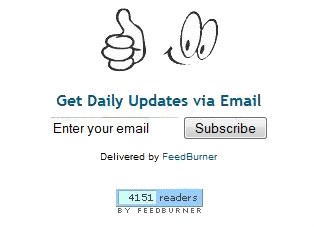 Trick functions so simple and it attracts or catches the attention of your visitor. People usually visit the website for some information and after getting "what they want" they usually quits that website. Here comes the importance of this graphic. If we can catch that valuable visitors eyes and convert him to a reader, we have won the game.
What the data tells?
Before using this attention graphic on the website its daily subscription rate was about 20 per day. I have analysed the data after placing this graphic for a week and it shows that rate of subscription just doubled.
Now it's about 30 to 40 per day and this simple trick changed it. So don't wait to apply this simple trick on your website because "Readers not made = Readers Lost".
The Author, John Joseph, is an author at Circuits Today a blog on Electronics Circuits, Design and Devices.