A guest post by Joe Gullo. If you wish to write one, check out the guest-posting guidelines and details.
If you're looking for some fresh content on your blog, you can look to your community for local issues pertaining to your niche. By looking to your community, you can tell someone's story, build your representation, and it's an easy promotion to get more readers on your blog.
Here are 4 tips on how you can blog news in your local community:
Find the story.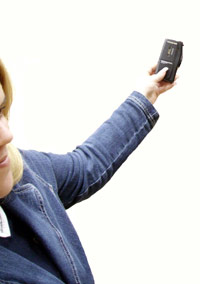 Before you begin, you will need to have a story idea or general idea of what you want to cover. If you're having problems finding a story idea look to your local newspaper or to the community. What issues are influencing your niche right now? What information can you provide that will help people do their jobs easier?
It's important not be wedded to any story idea because it may change. As a journalist, I've gone in with one story, but came out with a completely different one. People always surprise me with their responses. They may not answer your questions the way that you expect them to and changes your whole angle or meaning of your story.
Things to keep in mind:
What story are you trying to tell? In news, you want to find people that best tell that story.
What is the angle of the story? What point of view do you want to tell it from? If you're covering how the economy is forcing a business that has been around for 25 years to close who do you want to tell the story through? Do you want the customers reaction to the store closing and what the store has meant to them? Or do you want to tell it through the store owners point of view? How will this change their lives? Both are powerful story options.
Summarize your story in one sentence. The more concise and simple your sentence the better. You don't want to your idea to be too complex that your audience doesn't have a clear idea of what your reporting on.
Identify yourself.
It is important to identify that you are a journalist (even if you're a blogger) looking to ask questions for a story. Even if you have no prior experience in journalism and are only planning posting information on your blog.
Be sure to share what your story is about and what your focus is. The more transparent and open you are about the story, the more success you will have. Give people a reason to trust you, not distrust you.
Some people, especially if you are using a camera, will not speak to you. Whatever the reason, you should accept it and move on. Do not force them to answer your questions if they do not want to. There will be other people that will be more than happy to answer some of your questions.
Ask questions.
Your goal once you find your interviewee is to offer depth and perspective that you may not be able to provide yourself. Let your interviewee tell the story.
It's good to have an idea of the questions you want to ask, but do not make it sound unnatural. Sometimes your best quotes are merely from just listening and having a conversation. It may also be helpful if you are nervous to view it as having a conversation with someone rather than I'm doing an interview with someone.
It's also a good idea to ask open ended questions during your interview. You will get more in depth answers than just asking yes or no questions. If you're not getting the responses you would like rephrase your question differently. Don't be afraid to keep asking the same question in a different ways until you get the answer you're looking for.
Have a plan (well kind of).
When you are writing a blog post, you want to have a general idea of what you are going to write about. The same goes when you're interviewing someone for a news type story. Depending on how you're producing the story (video, photos, or text) will depend on what kind of planning you need to do.
Your plan should have a general overview of what you're trying to accomplish. Again, you want to allow some flexibility but you also want to have a story focus that you're going to achieve.
Unless you are under tight deadline, it may take you a couple of days of interviewing people for the story you are trying to tell.
The Author, Joe Gullo is Freelance Journalist, Photographer, Videographer, and Video Editor. Visit his blog/website at www.joegullo.net.