A guest post by James Adams. If you wish to write one, check out the guest-posting guidelines and details.
With the phone ringing, the email beckoning, and a variety of social networks at your fingertips, high-tech distractions have never been more prevalent in our workplaces. Pair these production killers with other everyday distractions and you may suddenly find yourself with more interruptions than you can handle.
To help ensure that your workspace stays relatively interruption free and distractions are kept to a minimum, here are a few tips that may help you stay focused, on task, and productive.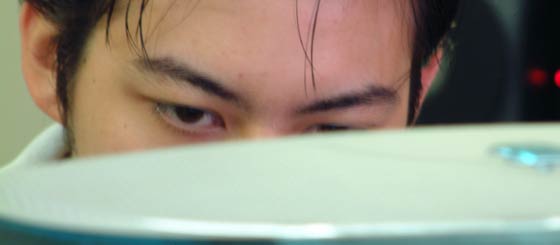 Designate a Workspace
Finding a good spot to work that is devoid of distractions might be easier when you are working from an office than from home, but even then, it's not always a guarantee. Designating a workspace at home, in which you are comfortable yet productive, can help keep distractions to a minimum. At work, it might take a little more effort, but changing desks or offices, or even just re-arranging your current workspace might help to eliminate or decrease distractions.
Set Work Times
Almost everyone has their own particular time or times of day or night during which they are most productive. Knowing and understanding when you are focused and do your best work can help you shove distractions to the side or to deal with later. By setting aside work time during these most productive periods, you may be able to waylay distracting or less important duties until a time at which you have less energy or aren't as motivated.
Utilize Music
While using music might not work for everyone, some smooth jazz, symphony music, easy listening, or whatever style of music helps block out distractions but doesn't serve as a distraction itself, could prove helpful in maintaining your focus.

Turn Off Distractions
Many times, distractions are right at our fingertips. Cell phones, email, and the internet are often easy and available distractions. Sometimes the best thing you can do to help yourself stay on task is to turn these tech-toys off or work in a place where they are not a temptation. While this may or may not be an option depending on your type of work, setting aside times to check these devices could help reduce their powers of distraction.
The Menial Activities
Those small jobs that get in the way are easy distractions when you're working, especially if you don't feel like doing the bigger tasks set before you. Whether you work at home or in an office, those menial activities – you know the ones – washing out your coffee mug, watering the office plants, tidying up your desk, or cleaning out your old email or phones messages, can eat up time and be distracting. By setting aside downtimes for these activities, you can better avoid procrastination.
Ignore Interruptions
While ignorance may not be an excuse when it comes to the law, it may be able to help you avoid distractions. Ignoring outside distractions (this doesn't mean being rude to co-workers, family members or ignoring important things like the fire alarm or the boss) can be a great way to stay focused and on track. Learning to block out sirens, other people talking, the television, phones ringing, and similar distractions may help you to retain your focus and not lose valuable work time.
Food and Drinks
Food can be a wonderful distraction, and that could be a problem. Having food at your workspace can slow your work, and depending on the type of food or drinks on which you snack, may not be the healthiest distraction.
Prioritize Your Day
Getting your priorities straight and knowing how you'd like your day to progress can be a great way to economize your time and block out distractions. With an orderly flow to your day, you may be less likely to allow yourself to become distracted by events not within your schedule.
Goals
Similar to prioritizing, setting goals can also be a fantastic way to diminish the effects of distractions. When you know what you want or need to get done, you may be able to better push yourself to ignore distractions and accomplish set tasks.
Make Use of Breaks
Taking breaks may sound like a strange way of avoiding distractions, but breaks could work in your favor. By giving yourself set break times and limits upon those breaks, you may be able to avoid constant interruption and better force yourself to work hard between those break times. It might also be easier to push yourself to block out distractions and finish your work knowing that you have something to look forward to with a much deserved break approaching.
The Author, James Adams is a full time blogger who works with an online store based in Manchester, England who specialise in printer ink. He is the lead editor on their blog where he posts about modern art, vintage advertising and print design.