A guest post by Rob Martin. If you wish to write one, get it touch with me and we can discuss the details.
We live in a culture where size matters, a mantra that is especially true for technology – the smaller the better. We love technology that fits on the head of a pin. Virtually invisible, and yet utterly indispensable. Samsung tapped cleverly into this culture with their Samsung Galaxy Mini, a smartphone in miniature. Now, Samsung have announced a new version of the Mini, in the sensibly-named Samsung Galaxy Mini 2. Because if it ain't broke, why fix it?
This single-core 800 MHz mobile processor comes with a higher clock speed, more RAM and a beefed up battery – and all in miniature.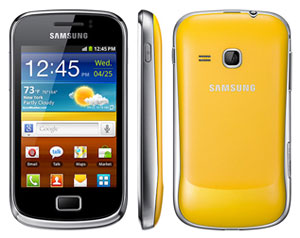 The Mini 2 certainly hasn't been named ironically, although its screen is slightly larger, at 3.27 inches, than the original Galaxy Mini model, which was a compact 3.14 inches. This teeny screen has an increased resolution to 320×480 pixels, which is good news for anyone who experienced problems with the original model, whose screen could occasionally be a tad blurry. Hopefully this problem will be fixed with the improved pixel count on the Mini 2, making icons and text crisper and sharper. Don't expect mind-blowing graphics though; you'll have to look to the Galaxy Ace 2 for that.
Happily, the Mini 2 has kept the bit of colour that made its predecessor stand out. A choice of colour is something that is becoming increasingly rare in the smartphone market; usually you're limited to the option of black or steel grey. With the new Galaxy Mini 2 however you can pick the colour of your backplate from a discerning range that is not simply monochrome. Some leaked photos have included a rather fetching bright lemon number. Elsewhere, the design remains similar to its predecessor, being chunky with a rounded ergonomic back. It's a skinny 11.6 mm thick, so perfect for anyone travelling light.
The Galaxy Mini 2 isn't going to pack a lot of power, by any stretch. Its hardware is limited. That being said, unless you need to be able to launch a missile from any location in the world, you should find everything you need in the Mini 2. Need, if perhaps not want. It has 4GB of storage with the option to bump that up with a microSD storage card. The camera is only 3-megapixels, which is a bit disappointing, and does not include autofocus, unlike the Galaxy Ace 2 which is released at the same time. Sharing photos will be made easy, at least, by the Android operating system.
That's right, a miniature smartphone that will run Android. It will run on Gingerbread 2.3 and not 4.0 Ice Cream Sandwich, making this operating slightly outdated. Nonetheless this phone gives you access to the Android Market, and all the customisation, free apps and games that beautiful place has to offer.
This is the phone for you if you don't want to spend a fortune, and don't need your phone to fly you to the moon. It's set to be a sturdy and reliable smartphone, with a reasonable price tag, and a slick Android phone experience to boot.
The Author, Rob Martin is a technology expert and writes for many independent comparison websites for broadband, mobile broadband and smartphones.