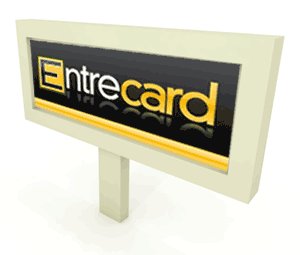 Entrecard credits are your door to money less advertising on popular websites. Entrecard credit is like virtual cash; only catch is that, you can use it for advertising alone. (That's theory. These days, Entrecard Credits are used for lots of other deals too!)
New to Entrecard? Here is how it works.
You signup for Entrecard and to participate, you need to display a widget (like the Featured site Widget on my right sidebar). You can now accept ads from other users and they will pay you using the Entrecard Credits for the ad space. The duration for any ad will be 24 hours, so you will have a new advertiser every 24 hours.
You can earn credits by dropping on the Entrecard Widget on other blogs too. (Dropping = pressing the drop button. If you are not logged into Entrecard, then this button will read 'Get One'. Actually, you don't need to display an Entrecard Widget to earn, you can earn by dropping alone.). You earn one credit per drop.
What do I do with the Credits?
The credits you earned can be used to advertise on other sites. The cost of advertising on any site depends on the ads in the waiting list. For e.g. if you have 5 ads in the waiting list, your prize tag is 5 times 2, i.e. 2x2x2x2x2 = 32 Entrecard Credits. This means someone has to pay 32 Entrecard Credits to advertise on your site. Eventually, sites with more Alexa ranks and more visits will have a bigger prize tag, since the waiting list will be huge.
Entrecard now presents with a chance to win 132501 Entrecard Credits. That would mean free advertising in some of the busiest blogs online.
The Sponsors and the prizes
How to Win?
To win one of the above prizes, you need to write a post like this one, and tell the world which prize you wish to have.
"I would like to win the 20,001 Entrecard Credits from Google Stalking". (Thats the second prize. Am I being modest?)
Then post the link to your page as a comment on the Announcing post at Entrecard and you get one entry.
If you post the list of sponsors, like I have done here, you get a total of 3 entries.
Head over to Entrecard Blog and see them for yourself. It's a once-in-a-while chance!
What would I do if I win? I would give it in here to my readers.. 😉