Living an online life as a Social Netizen is impossible without some 'life' supporting tools and services. Some of them, like WordPress, give me the very life online, while some others, like Twitter, is Life saving. Thanks to these services, they save my day, every single day…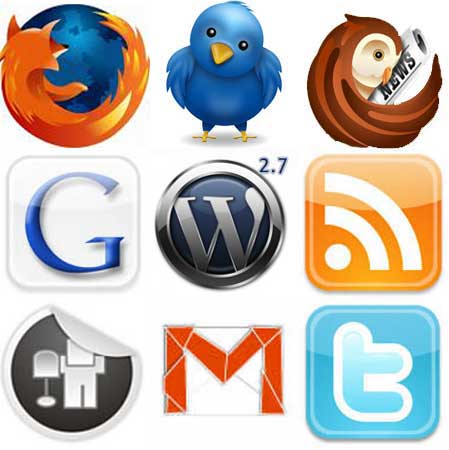 Here are the top ten Web Services, without which I would never have an online life. Some of them are used every hour, some every day, or even every week, not more than that. 🙂
Top 10 Online Gadgets that keeps me alive
WordPress
It is the very soul of my net-life. WordPress 2.7 powers this blog, and with all those cool plugins and themes, makes blogging sheer fun. I was introduced to WordPress only in August last year, but soon it took over me. Can't live without it now.
Gmail
I am an email fan and gmail had been delivering emails for me ever since its launch in 2004. The best thing I love about gmail is the speed with which one can send a reply. Just press 'r' while reading a mail and you are ready to type your reply, without any more pageloads unlike other email clients.
Twitter
The tweet bird bits all my time away. Something like a public chat room for netizens. That's were I hangout to make new friends, or connect with old ones. Also, it's working like a secondary google for me, because I get answers to lots of questions there. If you are on it, then follow me and let's meet up there.
Google Talk
In the past, I had used Gtalk just to say hi to my buddies, but now it's more like a knowledge bank. I use Gtalk to find answers from some cool friends out there, also to answer some of my reader's queries. If I can be of any help, do add me up (arunbasillal [at] gmail [dot] com)

Google Search
All my research starts from Google Search. Google had been my browser homepage for more than 4 years. What I like most is the define parameter in Google. Type in 'define: keyword' and you get all the web definitions for the keyword.
160by2
160by2 is a pc-to-mobile SMS service. The email to SMS capability in 160by2 saves all the time that I usually take to type in the messages on a mobile. Moreover, it's a free service that saves me some serious bucks.
Feedblitz and Feedburner
Feedblitz manages my email subscription service. Recently Feedblitz has ceased its free service, so I am one of the lucky early birds with the privilege to use it for free. On the other hand, Feedburner handles my RSS Feeds. The Tracking and Analysis is also one another cool add-on in Feedburner.
RSS Owl
The owl has been my faithful desktop RSS client. It's pretty simple and clean and much faster than Feed Demon. It has got extension support, and I am yet to discover its full potential.
Firefox and Firebug Firefox Plugin
The first thing I install after every computer format is Firefox. I haven't used IE ever since I discovered the potential of FF. With add-on support, FF is the best browser I have ever had. The Firebug Firefox Plugin has been a time saver for me, given the fact that I am not a web-designer but just a normal webmaster with the html basics.

Digg
This is one of the social book-marking networks I am planning to be active this year. What makes Digg my favorite is the ease to digg-up stuffs. If you are on Digg, please digg me up too.
I hope that I find more life sustaining services this year. Do you know any cool service that might help a netizen? Tell the world about it and help netizens live healthier. Thanks in advance. 😉