A guest post by Rob Clymo. If you wish to write one, get it touch with me and we can discuss the details.
Now that millions of us are blogging on a regular basis, it comes as little surprise to learn that a very large section of this lively community is choosing to go mobile and produce posts on a daily basis, from all manner of locations. While that's good news, it also brings with it a few things to think about if you're considering doing the same thing.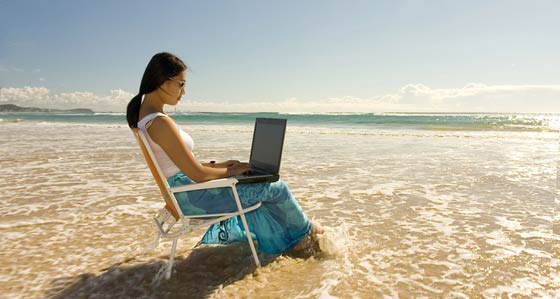 Of course, thanks to mobile broadband, it's now easier than ever to enjoy your online activities on the go, without too much fuss and bother. This is boosted by being able to blog while you're in transit, and thanks to smartphones, tablet computers and laptops, you have all of the tools needed at your disposal too.
Up to date
One of the main benefits for bloggers who want to use mobile blogging as their form of expression is that it enables instant updates, rather than having to wait until you get to a computer terminal or somewhere that has got an internet connection. Modern smartphones and tablets also have all of the blogging apps that you'll ever need, right there at your disposal.
And, thanks to the powerful capabilities of these mobile devices, posting updates and adding all sorts of dynamic content is also wonderfully simple too. What's more, if you're living with other people who love to blog, then it could be an idea to invest in a mifi device. This is rather like a wireless router that you may have at home, but the difference is that it allows you to share out a mobile broadband connection with up to five other authorised users.
What that means is that it's now possible to produce a whole mini network of like-minded bloggers who can all make posts simultaneously. Bear in mind that using a mifi means that data allowances are divided up between all those using the connection, so watch out for anyone who wants to download lots of content. Nevertheless, a payg MiFi or a contract variant can be really useful addition to your blogging arsenal.
Nevertheless, this great new way of staying connected means that you'll be able to make posts when and where you like, and keep family, friends and work colleagues happy at the same time. There are some great mobile broadband deals and offers out there too, just as long as you're prepared to shop around a bit
The best way to find a top-notch mobile broadband blogging package is to use the services of a free comparison website. Going down this route means that you can see all of the options in one place and be sure that you're getting the most
bang for your buck. Easy! Added to this is the fact that many mobile network operators are keen to get you to sign up, so there are endless incentives to help you decide, which includes free dongles, laptops and all the rest of it.
If you don't mind spending some time doing your homework then you could find that a whole new world of blogging opportunity is very close at hand. What's more, it needn't cost a lot of money to enjoy this newfound connectivity and freedom to post, no matter where you 're located either.
The Author, Rob Clymo writes on behalf of www.broadbandgenie.co.uk, the independent comparison website for broadband, mobile broadband and smartphones.