From the point of view of the reader, subscribing to a blog via Email has two minor short comings.
You cannot get the content when it's hot. Emails are delivered once a day, so you have to wait till the mail comes in to get the updates. (Knowing things when it's hot matters at times!)
You have to reveal your email id to the publisher. No big deal, but just if you don't like that someone to know that you are reading?
A quick solution is to switch to an RSS reader. Yeah, that works, but you don't like using the RSS readers, now what?

Use Google Alerts!
Google Alerts is one great piece of code that can be put into weird uses and this is one of them.
Google Alerts as your RSS Reader that comes up in email
Google Alerts lets you create an alert for any word or a phrase. Suppose you like to know when someone says your name on the web, create an alert for your name and Google will promptly send you an email when it crawl the page with your name on it.
In this case, the idea is to get notified when the target blog is indexed. Remember, most blogs that are updated often get indexed in no time.
For this, Go to the target blog and find a unique phrase that repeats over and over on all the pages. Here on my blog, the titles of each post have the name "Million Clues" attached to the end of it. Also, my name "Arun Basil Lal" is repeated on all pages.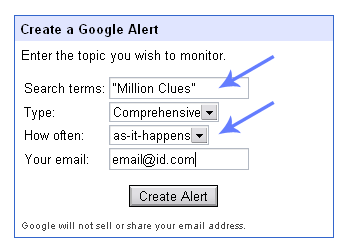 Every blog will have either the author's name or the blogs name repeated on all pages. Look for something unique on the blog, and create a Google Alert for that word or phrase. If it's a group of words, remember to include it in double quotes when you create the alert (as in "Charles Dickens").
While creating the Alert, choose "As it happens", else you will miss all the fun. Now when a new article is posted and Google indexes it, an alert is sent to you.
The two problems are solved: You got an email update of the new post, and you didn't leave your email address!
Nasty: Some publishers would be thinking that I am advising something that will ruin them, because if you do this, you don't count in the Feedburner counter. Hey! If someone has to read the article, they have to come to the blog, which means something, right?
Bonus tip: To track when Google indexes you, apply the above tweak to your own blog, when Google indexes you, you get an email. How is it?