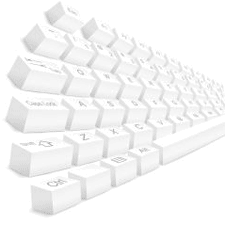 Do you want your boss to see how much you have in your Paypal Account? How would you like if the net café boy starts sending emails from your account? Do you think that your non-geeky sister won't find your locked drive password? Its all possible if there is a keyboard logging software installed.
Keyboard Logging Softwares can record every keystroke you make. Google for Free Keyboard Loggers and you will find many freebies that can track every key-stroke anonymously. Most public computers and office computers use such software to track the activities of its users. But you are no longer afraid of them. See how you can protect your passwords from such Keyboard Loggers.
Cheating the Key-Stroke Logger
Use the On-Screen Keyboard: The Accessories in windows have an on-screen keyboard. Type 'osk' in the RUN command box for the On-Screen Keyboard (OSK). Now, type in your password using the mouse and the OSK.
But recently I tested this on a Key-Board Logger and I was amazed by what the software could do. It had recorded the password typed in using the OSK. But we are not giving up yet!
Fool the Logger by shifting the focus: Type in the password in bits, by turning on and off the focus of the password box.
For e.g. : If the password is 'amnesia' (lol, that's not my password 😉 ) type in 'am' in the password box. Now click on a blank area in the window and so that the password box is not in focus anymore. Now type some random text (say 'monia'). This will not appear on the password box since it is out of focus. Now click on the password box and type some more of the password, say 'ne'. Again click on a blank area and type some random words. Repeat this till you complete your password.
The Keyboard Logger would have recorded am-monia-ne…(without the – ) since most loggers can't differentiate the fields. That way we cheat the Logger with a wrong password.
I would recommend the second method, but if your password is that important, use a combination of both the methods. This is also a great way to keep your passwords safe when using a public computer. You would be surprised to know how identities are stolen, they first get into your email and then is easy for them to access your credit card and bank information.
If you had been accessing your accounts from public computers, how were you keeping them secured before reading this?