Pay1 is operating as India's first and only cash-to-digital payments retail network providing services to 23 million customers till now with 5 million walk-in customers every month at retail outlets. It is one of the biggest online payment platform enabling the customers to make payments for their utility needs & recharges.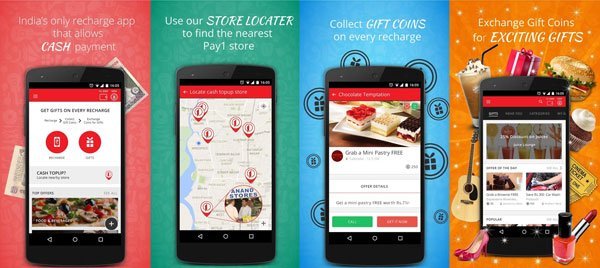 Company's provides services like Prepaid, DTH, Datacard Recharge & Post-paid, Utility Bill Payments.It has partnered with almost all major service providers for Telecom, DTH, Datacard, Utility services present in India. Company enables the consumer to function through two Mobile Applications, one for the consumer & one for their retail partners.
The company also has a huge retail network throughout India, providing cash to digital payment transfers in almost all parts of the country. Pay1 offers a comprehensive list of payment options like credit card, debit card, net banking and ATM card from all leading banks. The Retail Partner Application also enables the Retailer to take the limit / balance through Net Banking / Bank or Cash Deposit or through their respective Area Distributors.
Apart from this, the company has a presence in more than 20 cities with a base of 50,000 retailers. Also the Retailers can stay updated about the product, offers & other promotional activities through Pay1 Merchant Facebook page.
Pay1 has an robust recharge technology platform that helps customer experience fast, secure, easy & convenient recharge.It proudly stands to be the India's fastest growing recharge channel network in terms of safe transaction, customer support and a wide presence as a base.It also enables the customer to top-up / add money in Pay1 Wallet in Consumers Application by paying cash at their neighbourhood store. The online transactions done through Pay1 are SSL Secured &Reliable. Experience the fastest, most secured & All-in-One Recharge Application.
For more details click on www.pay1.in & like our Pay1 Facebook page.