I remember back in my photography days how I hated post production and adding watermarks to my photos. So when Allen from AoaoPhoto Digital Studio wrote to me, asking me to checkout his software, I had to take a look.
Normally I do not entertain such requests, but I am glad I went for this one.
Aoao Watermark for Photo
Aoao Watermark for Photo is a handy piece of software that lets you batch watermark your photos with a text or image watermark of your choice. If you are a photographer or a blogger, this will come handy and safe a lot of frustration time.
The interface of Aoao watermark is very clean and intuitive. It is pretty straight forward to work with.
You start by loading up the photos you want to watermark.
Then you add a text bookmark and/or an image bookmark. Optionally you can add frames around your pictures, crop them all, resize them and rename them too.
Then you let it run and do its magic.
Now you can share your photos online.
You can download a fully functional trial version from here and see it for yourself.
The Good
I tested out the trial version of the software and here are the things I liked about Aoao Watermark.
Simplicity. AoaoPhoto's watermarking software is like a wizard. You follow through each steps one by one.
Contextual help that lets you gets started easily.
Accepts Camera Raw (*.raw; *.crw) and PSD as input formats.
Lets you add multiple layers of watermark as you wish. You can add both text and image watermarks.
Handy access to these symbols in one click: © ® ™
Templates for adding Exif info. For e.g: </%CR*\> will add the Copyright info from your photo's Exif data. Easily accessible in a single click.
Alignment buttons that help you position your watermark nicely.
This can convert the images to a different format. Batch converting RAW to JPEG anyone?
The Not So Good
Here are a couple of things that I thought could be improved.
More options to choose for adding Exif info would be sweet. Most photographers would like to add details like the Aperture, Exposure Time, Shutter Speed and ISO along with their picture. I found that missing in the Exif info menu.
I noticed how you cannot move around the watermark in full screen mode. It would be nicer if we could do that. Full screen mode lets you place the watermark precisely where you want it to be.
Giving Away 5 Aoao Watermark for Photo Licenses!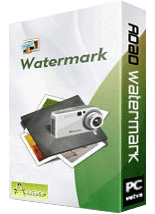 Allen has graciously offered 5 licenses for you guys. These are full licenses that will give you lifetime upgrades for free.
All you have to do is leave a link to at least one of the photos you have taken in the comments. You could leave your Flickr link, or a link to your Facebook page or to your portfolio page on your website. Anything that shows your work.
(If you are desperate to win, share this article on twitter or facebook and post the share link as well. Your name will be added one additional time for each share. So comment + Twitter share + Facebook share = 3 entries)
Winners will be selected at random, you have time until 7th April 2015, 13:00 IST to enter.
Go ahead and download Aoao Watermark here. When you win, and I hope you do, you can enter the registration code and enjoy the full version.
Good luck!
The Winners
The first 5 won. Congratulations winners. Your license will be emailed to you.