Software makes our lives easier. That's one of the reasons why I spend more time on making content for my salon site instead of advertising in the newspaper.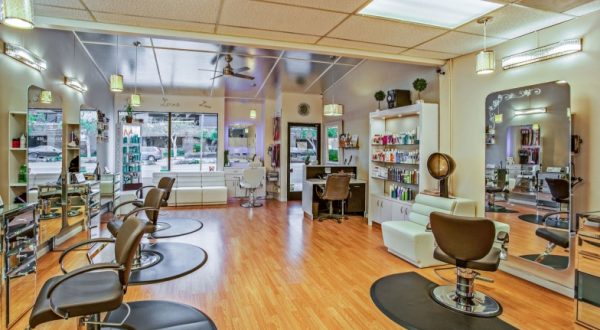 The problem is: a lot of people still use old-fashioned tactics (read: "analog" bookkeeping called a paper filing system) that are ineffective. Emails replaced snail mail. SMS texting replaced phone calls. Streaming replaced television. And software replaced pen and paper.
Let's talk about why purchasing apps/programs for your salon business will help you make more money.
1. Pre-Booking Is A Cinch
Worthy salon systems provide you with easy and comprehensible reports. What this means is… if you choose, you can make a list of clients. Your system will automatically tell you which clients are overdue for appointments.
How? That's the magic of software. This magical wizardry also helps your team make clients book appointments in-store, preventing the mess of calling weeks later and the struggle of finding an opening.
2. How To Save Your Business By Organising Inventory
How often do you run out of specific product? When was the last time you ordered an item and it was on back-log during a very intense (read: crazy) rush hour?
Some salon software lets you diligently record (and maintain) a professional, concise and clear inventory list to ensure those mistakes never happen again. (That peace of mind is worth it, right?)
3. Why Your Clients Will Love You
Most salon software lets clients/customers book appointments when they want. Many apps and programs even let clients choose specific stylists – which is always great for business. (Don't you want people on your team your clients feel like they can trust?)
Plus, many software program systems allow two-way text messaging – meaning you two can talk about rescheduling appointments in the event your client can't make it (no-shows are a frequent mishap in this biz.)
4. Automation = Fast and Easy
Need help organising your workers' schedules? Expedite client check in/check out times? What about having help with employee commissions and the like? Perhaps you're a bit down on your luck when it comes reordering inventory or printing work tickets with clientele history.
Depending on the software you choose, you will be able to do all that – and more! It's like journaling in a notebook vs. journaling on a tablet.
5. Need Help Building Trust?
Salon systems worth their weight in salt (justifying their price tag) help you store details about your variety of clients. Which makes it far more useful than a folder of information for every single client you have – which, let's be honest, takes some time to type up and then find among the "Foldergeddon" mess on your hard drive.
As if that weren't enough—Lord depending on your preferred salon app—you can prompt clients to visit more regularly for their needs by using the app to make discounts. (Imagine knowing almost everything about your customers, then offering them discount-specific loyalty programs tailored specifically for them! Can you imagine the engagement and trust that'd build?)
6. How To Kill Time Vampires
How often do you (or your employees) generate reports, set up schedules and reorganize client cards? Not to mention reviewing your weekly/monthly sales and orders history! Salon software—if they're made by a reputable and well-respected company—makes dealing with these "time-vampires" a lot easier.
Similar to cashing a check: do you remember the days of waiting in line at your bank? For quite a while now, we've had bank apps that let you take pictures of checks, and the money is deposited into your bank account.
The same concept applies: everything that you used to do by hand, eating away time and draining your energy, is now done via the software platform, easy peasy.
Conclusion
Now that you've seen how salon software can make your life easier, save you time and effort, and drastically cut down on the amount of management you have to do… do you have any reasons for not getting a program? Be sure to always read the reviews others have said about which software you're considering.
The best investment choice is backed with loads of knowledge-informing research.