Bringing in visitors for your site is not half as difficult as making them read what you have in there. Even if some of them read one of your posts, they will choose to leave soon if you don't lure them with inviting links. No, people don't usually click every link that you have on a post (check your analytics). But what if the link is closely related to the post they just read?
This discussion is about writing closely related posts and interlinking them so as to keep the readers stick to your site. So in a way it's about reducing your bounce rate. There are lots of ways to do that I guess, but we are dealing with BASE POSTS.
Base Posts? eh?
Base posts are those posts that would support another post. The base post will contain information which has its own identity but which is not relevant in the main post.
Oh, I know that sounds like a high school definition, lets crack it. A base post acts as a support post for another post / posts. Which means that, we are going to link to the base post from another post in the future. A base post has its own identity, which means it can act as a stand alone post too. The third feature is that a base posts will have that kind of information that is not relevant in the post it is going to support.
Some Examples Please…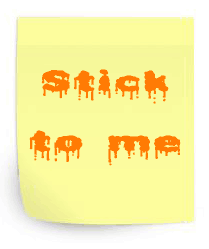 Example 1: When I grew passionate about Twitter, I was sure that I would be going to write about twitter and related applications. So I wrote a twitter quick start guide so that I could link to it from every post on twitter. It would be annoying if I start explaining what twitter is in every post. On the flip side, I can't assume that everyone who reads those posts knows what twitter is, can I?
Example 2: Every blog will have a RSS subscription option, but not all readers who come to your blog will not know what RSS is. Keeping this in mind, I wrote a post explaining what RSS is and gave a link from near the RSS subscription box.
Now I think the idea of a Base Post is very clear. I could have linked to any external site to explain what RSS is. But the base post had its own reasons. One, I didn't want an external link from my homepage. Two, I had something to contribute to what was available online. Nah, don't get the idea that I am too conservative about linking out; I always give out links to every relevant resource online.
A Case Study
When I wrote about the Firefox Firebug Plugin, I also described the effects it would have on your browser; I gave out the solution for the ill effect was to create a different profile in Firefox. But how would you make a profile in Firefox? Well, I wrote that in another post and linked to it.
The result? The post on Firebug got lots of page views and search visits, people who read about it loved the plugin for sure. So they wanted to use it. Also they needed to know how to create a profile too. (In firefox, you won't find 'create a new profile' in any of the menu bars and I was unaware that it had profile support until Binny told me.) So instead of Googling out the way they followed my link!
When to use Base posts and When not to…
Use base posts when:
A portion of a post is not relevant to most of the readers. In many cases as in the above case, a reader coming to the Firebug page would already know how to create Firefox profiles. So that makes the base text irrelevant there
A part of the post can stand on its own as a stand alone post. How to create a Firefox profile can stand as a separate post
You have something to contribute to an article on an external page to which you would have linked if you were not writing the base post. For e.g., instead of writing a base post, you could link to another page on a different blog. But what if you need to add more to what's available on the linked page? Write a base post, add your own thoughts and link to the external page there.
When you are sure that a post you are planning in your mind is going to hit the homepage on Google and you wish to distribute the link juice to more pages of your blog.
When the base post can serve more than one post i.e. you are sure you will need the base post more than once. For e.g. as we discussed above, I have linked to a base post twitter quick start guide more than once and in almost every where I mention twitter.
Avoid Base Posts when:
The base post is a must read for everyone who reads the first article.
There is a well written post out there on a external post which you can use instead of the base post and you don't have anything to contribute to it.
Now we are good to roll!
The idea of base post is to make your site a bit more sticky. The more time a visitor sticks in, the more is the chance that they turn into a regular reader. Use Base Posts whenever you feel that you are going to need it again and again and very often. Don't forget to link out to any relevant resource from the base post. Linking out is a great way to love the community.