This is not a tutorial on moving your entire blogspot blog to wordpress, but a tutorial on how you can effectively make your wordpress blog work as a continuation of the blogger blog.
Also it is assumed that you already have a content rich blogger blog that is well ranked where ever it should be, else go for a complete migration. Google will help you!
This week I was in touch with 3 bloggers who had decided to move from Blogger to self hosted WordPress. As a WordPress Evangelist, it gives me immense pleasure when someone makes that decision.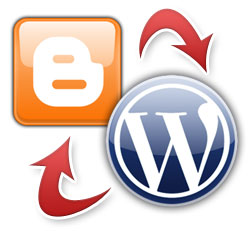 Though there are ways to completely shift your blogger blog to wordpress and automatically redirect visitors to the new domain, I would say that you keep the old blogger blog intact and consider the new blog as a continuation of the old one. Why?
Moving Content doesn't move the page ranks and any other ranks you might have.
A blog doesn't mean just the contents; the endless hours you spent designing and perfecting things would mean nothing if you just delete the old one. (This might sound a bit too unprofessional, but blogging is a passion for many. You wouldn't just delete something that you created out of passion, would you?)
Instead of having to start over, it can act as a traffic source for you. A good share of the traffic that reaches your blogger blog via back-links would love to read your latest posts. (This part is discussed below)
A secondary blog is always good as a status blog or an emergency blog. You can use it whenever the self hosted blog is down.
Moving the Furniture, Step by Step
Move your readers
Update the source of your RSS feed in Feedburner to the feed of your new WordPress blog. Login to your Feedburner account, Go to the analyze tab, Click "Edit Feed Details…" on top-left corner, Replace original Feed with the feed of your new blog. For WordPress blogs the default feed is http://yourblog.com/feed
Install a Google Custom Search Box
Create a Google CSE and configure it to search both your old site and your new one. This can be easily done from within AdSense, see screenshot below. So users who hunt down for specific posts will always find what they need, no matter it's a new post or one hosted on the blogspot blog. Install this Search Engine on both blogs.
Add a note and a Site wide link
Add a small note mentioning that you have moved to the new location on your blogger blog with a direct link. People visiting your old blog via bookmarks will know its time to update their bookmarks.
Add a Latest Posts widget to your Blogger blog
Visitors who come to your blogger blog via backlinks would always like to read your latest posts. Thankfully, Blogger has a widget that can fetch the posts from any RSS. Use the RSS of your WordPress blog and add the widget to your blogger sidebar. Now the latest posts will be listed out on the blogger sidebar.
Update Links
Update the Advertise, about-me, contact and even Home links on the blogger blog with the links on the wordpress blog.  So you will never have to go back and edit the blogger pages when you change your advertising rates or your profile page. Also the home link pointing to the new blog will take the visitors to your brand new home instead of the blogger home. (Also, update the links of your Social Media profiles with your new blog.)
Twin Towers?
These days, blogger versions of popular WordPress themes are available. If you wish your blogs to look alike, change the blogger theme to match the wordpress blog.
That completes the integration. Now start blogging and your subscribed readers wouldn't even notice the change until the next time they drop into to comment! Readers coming via bookmarks will update their bookmarks and those coming via backlinks will reach your blogger blog, read what they came in for and when they start looking for more, they will find your new blog!
Did I miss anything? Feel free to add your suggestion and thanks in advance 🙂
P.S: I wrote parts of this post in a Facebook conversation with The Daily Blonde who just shifted from Blogger to WordPress, heart-felt Congrats! Later on, Dee asked me the same, so I figured out there are many out there who might need this. If you are looking for a guide to completely move your blogger blog to WordPress, this guide should help.