Nokia N78. It's a 3G phone; it looks cool; its feature rich and it's a Nokia. Google for it and you will get a million pages, all in praise of the all new Nokia N78. I read those pages and got the phone. Now I know what its like. So if you are thinking of getting one, listen to this. (Nokia guys are going to be very cross with me 😉 )
Why You Shouldn't Buy Nokia N78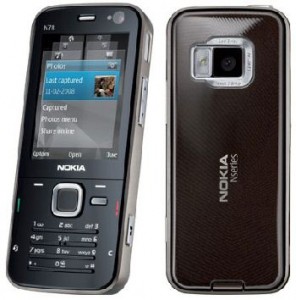 Poor Keypad Ergonomics – The keypad looks cool. But is really tough to type in 'long SMS's' because all the keys are really close. Moreover the keys are tiny (and cute). So if you got thick fingers, you need to do a real test-drive before you get on N78. Another issue with the keypad is the answer key. A set of 5 keys is placed on a single plate. It's a bit difficult to handle the keys on that plate, especially the answer button. You will have to press the answer button too hard to say "hello" (another security feature..?)
Outdated Software – Nokia purchased the Symbian recently, but the software department is still old-school. For a phone from the N-series family, we cannot expect to have duplicate contacts or inappropriate options. You can create any number of copies of the same contact. Then the phone does not show who is calling (when a call from that contact comes) since the phone is confused between the copies of the available contacts.
Disappearing Memory Card – A 2 GB Memory card comes bundled with the set. At times, the memory card simply disappeared from the phone. A simple restart will bring it back online. Does that show that N 78 can't handle 2 GB…?
Bluetooth Issue – The phone couldn't find my Nokia 7610 kept just near to it. Initially I thought is with the 7610, so I restarted that phone. Results were negative. I restarted N78 and the problem was solved. This is not what is expected out of a premium phone.
Camera is topless – The 3.2 Mega pixel camera does not have a cover. Okay, that's not Nokia's problem, but I am getting scratches on the glass cover of the lens.  It should have had a neat lens cover as in Nokia N73.
Cannot Stand on its own – The phone switches to the landscape mode while watching videos. But, out of the body design, the phone cannot stand on a surface without support. This is a serious issue if you are someone who watch whole length movies on your phone (which is not unheard these days). You will hurt your hand before the movie is complete.
Money Matters – Nokia N-series phones are not cheap, then why should you say this..? N78 has lots of things, like GPS, Maps, Transmitter and more stuff that you need. What is the use of having a gold coin in your wallet which you are never gonna use? Before you make the choice of this phone, make sure that you are paying for what you actually need.
Now don't start saying that my phone is not real. It has got a Nokia original warranty and all such stuff. Maybe I need some software upgrade when one is available.
If you have not stopped thinking of getting N78, go ahead. Get one for yourself and do let me know your experience.
For the Nokia guys: When we shell out hard cash, we need some real quality both in hardware and software. Your hardware is good, work on the other half.
Update: A new issue has arrived. The Camera is going crazy. It is now storing the photos in random places. The only good thing is that, I am not missing any photos. Each photo is somewhere there in the memory; just its location cannot be predicted. Also the gallery displays random images instead of displaying the last taken images. Something is seriously wrong.
Update 2: Another issue is here. The left speaker is dead. I googled this issue and there are many out there with the same problem. Now that is something serious. A hardware failure cannot be compromised.
My dad just rated the phone as: I just liked the way it look, everything else is bull shit.
Update 3: Now, the whole sound system of the phone is down. It's permanently muted and it's going into the service station soon.
Hey, I did not drop the phone in water, it has been handled well and still this is the case. Don't get this phone, it sucks 🙁