I heard this story couple of years ago. A Shoe Manufacturing Company sent two salesmen to some country in the middle east. Their job was to independently evaluate the opportunities in the country and decide upon opening a show room there.
They soon found out that the people of the country do not use shoes. After two weeks, they gave the following reports.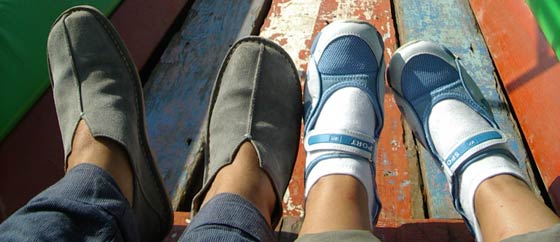 Salesman A: The people of this place does not use shoes. In fact, they haven't even heard of them. So there is no point in opening up a show room here.
Salesman B: We should open a show room as soon as possible. It's true that the people of this place do not use shoes. But the more interesting fact is that they haven't even heard about them. If we can tell them about the advantages of using shoes and help them get started, our opportunities are endless. We have an un-explored market here.
One saw a wall and other saw a door
This is analogous to the situation in India. Look around us. How many doctors or photographers have a website of their own? How many hotels have a online reservation service? Wont they all need a website in the near future? Who will provide online support for them? Who will market them online?

I am not here to tell you the i-make-money-online-so-can-you-and-this-is-how crap. I happen to come across some discussions on the future of internet in India both online and offline (now that I am graduating and everyone around me assumes that I am going to make money online, who knows?).
I would dare say that the question itself is very irrelevant.
How many people around you use the Internet?
Look around, how many use the internet on a day to day basis? Many doesn't even have broad band internet. Some time sooner in the future, the internet will get an equal place as the Television in our living rooms. (Didn't you hear YouTube India is gonna stream IPL matches live?).
As more and more people start using internet, more money making opportunities will come up. Where there is traffic, there is money!
Update: Just read that only 7% of the Indian population use the Internet. We are talking of 7% from over a billion people. [Source]
Dollar Still has a good Conversion Rate
It's convenient to think the conversion rate as a multiplier. For a the same job, an Indian gets paid 45X times when compared to a guy in the U.S. Well, not exactly. But, if you are keen enough to look, you can find good enough jobs online that pay really well when compared to local pay scale.
Countless Opportunities and Unexplored Lands
This is the best part. As I said before, there are so many sectors waiting to get online. Recently we say Tata Docomo actively doing their online marketing campaign on twitter (okay, they spammed a lot). Have you seen an ad for a car or a bike online?
In the next 5 years, hopefully they all will move online and where will they go for help? I think now is the best time to get online and do something in India, so by the time the opportunities comes and knock, you can be ready.
What do you think?
This is something you would have your own opinion. Which salesman are you?