With a lifestyle that is totally location dependent, the choice of destinations for a digital nomad are not only incredible but infinite.
While you are at a liberty to go to any place you please, certain important factors need to be addressed when choosing a digital nomad spot that is suitable for your method of working.
Most of the freelancers and remote workers have a tendency to congregate in locations which have the characteristics for ideal online entrepreneurship.These may include, affordable living, constant availability of good internet and company of fellow nomads.
In spite of so many awesome places, regretfully, only a handful qualify to be a perfect hotspot for digital nomads. It is therefore no surprise that the buzzing island of Mykonos, in Greece, tops the list, and for a good number of reasons too.
For example getting stable Wifi in a fancy villa in Mykonos with a pool is perfectly feasible.
Ideally located with high speed network
With a country lying in the cross hairs of three continents namely Asia, Africa and Europe, Greece has invariably become a meeting point of culture, food and remote workers.
Among a plethora of great party destinations, Mykonos scores above others when it comes to accessibility and connectivity.
Moving within Greece is easy and convenient. The short distances and presence of many budget airlines makes it affordable to access Mykonos. Internet connection is a top reason for a digital nomad as it is a vital part of their day to day life.
The internet in Mykonos, may not be as fast as other European countries, but is nevertheless good. Price wise, the average cost of connection in a co-working place is also low as compared to other cities.
Epic Nightlife
The vibrant Island of Mykonos ranks among the top cities with a great nightlife, which is essential for a digital nomad who has to work hard throughout the day. This party spot will not disappoint you and will not put a big dent in your pocket either.
Personal safety
This is another important aspect any remote worker needs to consider, and more so when in a new city or country. Nearly every digital nomad is loaded with expensive gadgets like cameras, laptops and mobile phones, that their care cannot be overlooked.
Mykonos is far better than any city in Greece, or even the world, when it comes to personal safety and care. This applies equally to solo female digital nomad travelers as well.
Of course one may encounter the odd pickpocket, as in any city, but overall the island is known for a high degree of safety.
Convenient time zone
This may sound irrelevant at first, but for the entrepreneur who wishes to sleep late, Mykonos is a perfect place to work. The country is seven hours ahead of EST, meaning you can start work at teatime if your company is based in North America.
Secondly, if your business partners are based in Asia, in countries like Japan or China, then if you rise a bit early, then all business can be completed by noon. Again if you are dealing with somebody in Europe, then you are only a couple of hours ahead of their office timings, which again is very convenient.
Great for meeting like-minded people
The start-up scene has been on the rise since the last few years. An increasing number of persons are switching to opening up their own venture like a bar, food joint etc to fulfill their ambitions.
These new opportunities which have grown like mushrooms all over Mykonos has opened up many vistas for networking.
Meetups and certain Facebook groups have come up where digital nomads and other remote workers can connect for mutual benefit.
Greece is a beautiful country
Perfect weather, rich history and diverse culture has made Greece an ideal country for remote workers to do business and enjoy the sun and surf as well.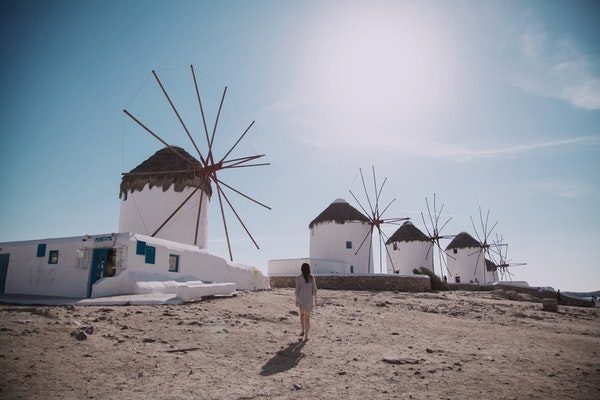 Besides the country itself, the marvelous island of Mykonos, with its many wonders and points of interest, make for an inspiring backdrop for digital nomads who have been used to work within confined spaces most of the time.
There are lots of entrepreneurs who visit Mykonos with the intention of having a good holiday but eventually end up loving the place. The locals community is diverse, but extremely friendly and caring.
Plenty of cafes
Though getting a place in Mykonos from where you can work 24×7 is well nigh impossible, you will always come across a cafe or bar that stays open late, thanks to the vibrant night culture. Bakery cafés abound in the island and one can work and have coffee and bread together.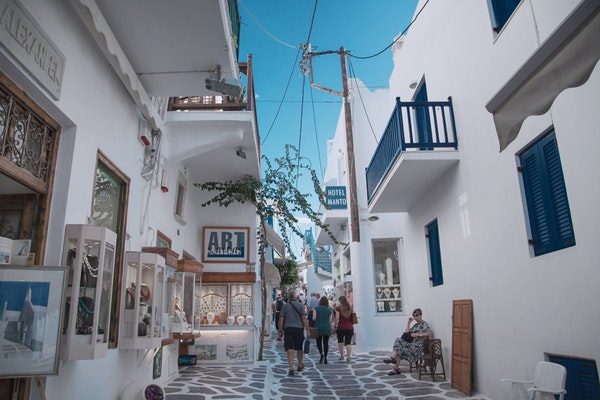 For working during the middle of the day, bar cafés can be found close by. One can have a beer while working and a cocktail at the end. These bars are all over Mykonos and are noted for their Greek coffee.
A good legit place will cost you 5 euros per day
Eating out
Mykonos is a mecca for a good lover. One can always eat well and not go bankrupt. Fresh bread is the hallmark here and is available everywhere. Cheese, Olives and Fruit are the kings of the island and are so delicious that it can change the way you eat.
Accommodation
There are plenty of staying options for the remote worker in Mykonos with AirBnB being the most cost effective at around 30 euros per night. A monthly apartment will set you back by about 700 euros per month, which is cheap compared to other countries of Europe.