With organizations steadily transporting towards a complete online mode of learning and training, businesses are saving around $13.5 million each year that would have spent on classroom training of every 1000 employees.
If you are thinking about choosing an e-learning platform for your employees, I can bet you are not alone.
In fact, 77% of U.S. organizations are reportedly offering online training to their employees, and 42% of them have already increased their income generation after adopting e-learning as a training approach.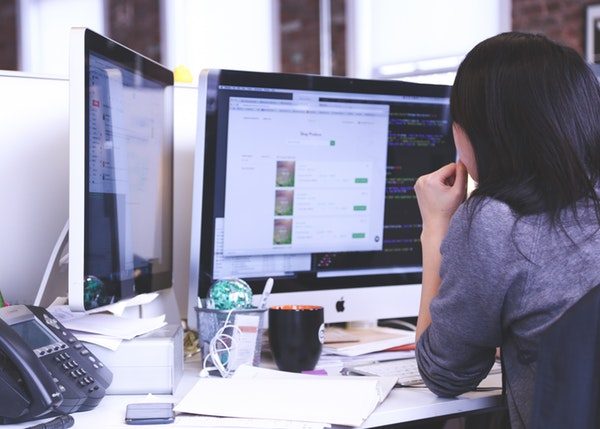 Today, there is an abundance of solutions providing effective ways to implement online learning within your organization. Though they share a common term 'e-learning', they are not similar in the convention.
Adopting a wrong e-learning or learning management system can create some tricky intricacies if not done carefully.
To aid you to undergo a seamless transition from classroom training to online teaching methods, we researched some popular e-learning solutions in the market. We found that depending on the modes of application, the purpose of implementation and goal of training, you could adopt an e-learning platform in four possible ways.
Please note that all these modes are for online teaching, but they represent four different environment and objectives of the implementation.
Four ways to adopt e-learning platform for your cause
1. Self-hosted e-learning platform
A self-hosted e-learning solution is built separately by a third party developer and is hosted on your web-server. Just like your website, that was developed by a software development company and was hosted on your web server.
Suitable for-
A self-hosted solution is suitable for all those organizations that want to adopt e-learning for their employees and want to retain an absolute control over it.
Pros of self-hosted solutions
You can host your e-learning system on your own website in sub-domain and allow your employees to access it with their user ids.
They demand one-time-investment for deployment and you will not have to pay monthly subscription charges.
Provide unmatched abilities to customize the system according to your needs and training models.
You can customize them to adapt entirely to your brand. You can tweak your website in all possible ways.
It saves the cost of managing a dedicated e-learning system.
Cons of self-hosted solutions
It takes considerable time to develop, customize, setup and run the system.
You would require significant technical knowledge to manage the website.
They come with limited features. You will need developing every other feature from scratch in the same framework.
You will need to pay for every other feature added to the platform.
You will require a dedicated team of developers and site admins, in addition to the tutors.
Not all tutors possess the technical knowledge to design courses on a tricky platform.
Example of self-hosted e-learning solutions
WordPress CMS – You can convert your self-hosted WordPress CMS to an e-learning platform and LMS by installing corresponding e-learning plugins.
JoomlaLMS – JoomlaLMS is a good option for professional level eLearning implementation with groundbreaking training choices, advanced reporting and conferencing application.
2. Third party hosted e-learning platform
A third party hosted platform is developed, hosted and managed by the vendor itself. They are supplied as SaaS to the clients.
However, you will get all the features and access that you require to author creative online courses for your employees.
Suitable for –
Such solutions are eminently suitable for all those organizations and individuals who do not want to handle the complexities of development and implementation of an e-learning platform. They can get a platform ready to upload courses from the first day itself.
Pros of third-party e-learning platforms
No hassles of complex coding and implementation
Vendors take care of the deployments.
They regularly update their platforms.
You will not have to pay for minor updates.
You can avoid coding complexities and work on everything from the admin dashboard alone.
Faster to implement as compared to self-hosted solutions.
Cons of third-party hosted e-learning platforms
No control over coding and implementation.
You will have to wait for official upgrades to include trending features.
No control over customization and branding.
You will pay monthly or yearly subscription charges.
You will have to adjust your needs according to limited features of the platform.
Examples of third-party hosted e-learning platforms
Udutu LMS – It is a hosted (SaaS-based) LMS designed to accommodate huge quantity of courses. You can deploy it in no time with its free access. However, you will have to pay for monthly subscription charge based on total number of active SCORM users and number of courses uploaded.
3. Upload on e-learning marketplace
There are dedicated e-learning marketplace sites who allow tutors to upload courses, and student to access them from anywhere. In terms of hosting they are similar SaaS-based e-learning platforms, expect the marketplace will not give you a dedicated URL to you.
Suitable for –
Tutors who want to earn – These platforms are most suitable for experts who want to teach their skills to the learners and earn money from it. They can design online courses and list on the marketplace.
The learners will come looking for the courses and purchase them accordingly. The tutor will be paid after the marketplace deducts its share as commissions for letting him or her sell on the platform.
Corporate learning – This method is unsuitable for dedicated corporate training. As an employer, you can design and upload online courses on marketplaces and your employees can retrieve them from anywhere. However, they will have to purchase the courses to access them. Moreover, anyone who purchases the course can access it. As a result, privacy remains a considerable concern. However, if you require people outside your organizations to benefit from your courses, you can effectively practice this method. In fact, most of the courses on the Coursera platform are from corporate and educational organizations like yours.
Pros of e-learning marketplace
You will not have to own a website to distribute your courses.
You will gain an access to the millions who come to those marketplaces seeking courses.
Marketplace owner will deal with coding and complexities of the back-end dashboard.
Zero cost of development, implementation, and management as it is not your website.
Some marketplaces provide inbuilt tools to develop interactive courses. Therefore, you will not have to depend on third-party tools to design courses.
You will earn by selling your courses.
Cons of e-learning marketplaces
As you will have to manage with the provide templates only, full control over the design is unavailable.
Finding buyers for your course is not easy, as there are hundreds of similar courses like yours on a single marketplace.
Marketplace owners dictate the prices of your courses. Therefore, there is no control over pricing.
You will be offering a share to the marketplace owner after selling each course.
The marketplace can terminate your courses anytime they wish to.
The marketplace will own the database of students; you will not possess the ability to develop bonding with your students.
Example of e-learning marketplaces
Open Sesame – Open Sesame is a reliable on-demand e-learning marketplace with more than 20,000 courses already on the platform. Learners around the globe know about this platform and purchase courses uploaded here.
Udemy – Udemy is an online learning platform that allows tutors to sell course materials for an array of categories. Until the date, millions of learners from across the world have already purchased courses in various formats. They are renowned for selling highly interactive video lectures as well.
4. Adopt a turnkey e-learning software
Also called as e-learning authoring tool, a turnkey e-learning software equips a diversity of tools to design, create, edit, and share courses. The courses are accessed by learners from anywhere on the internet.
This software possesses following abilities to accommodate a learner and instructor on the same platform:
Tools to create, edit, share, and track the courses.
Design courses in one or a combination of different formats: text, video and audio.
Allow monetization to let tutors earn from the courses.
Allow user collaboration for creating, editing and sharing of courses.
Track learning process with regular tests and quizzes.
Generate learning and teaching reports.
Suitable for –
Corporate training – It is suitable for implementing online learning methodologies within or outside a corporate organization. Managers can create online courses and allow their employees to complete them from anywhere. They can also track the learning process by using various LMS tools in collaboration with the software.
Launching e-learning business – Various turnkey solutions allow the tutors to create an e-learning marketplace of their own. If you think you have the skills to manage an innovative business like online learning marketplace, you can utilize this software to sell your courses and earn from them.
Pros of e-learning authoring tools
Speeds up the e-learning development process by offering built-in tools for designing and sharing of the courses.
Provide faster workflow by collaborating with multiple users having different levels of access to the platform.
They are easier to set up, manage and update, as the vendor itself performs everything.
Offers better tracking of learning the process using integrated LMS.
Maximizes the company resources, as you do not need hiring a dedicated team to create eLearning courses.
A person with no or less technical knowledge can easily operate the software with little training.
Provide option to launch your own e-learning website and earn through the courses.
No need to install other third-party software. You will get all major e-learning tools built-in.
Many solutions come packed with mobile apps. Hence, you do not have to spend extra on developing e-learning mobile apps.
Cons of e-learning authoring tools
There are various programs in the market for this category. It is tough to understand which one would best fit your requirement.
Some of the tools are a little tricky to use. Mostly the windows based applications that require a prior knowledge of tools like MS PowerPoint.
Few SaaS-based authoring tools are also in the market. Undoubtedly, they are efficient, but equally, possess the threats like data theft if not implemented carefully.
Except a few, most of them do not come with an open-source code. Hence, you will mostly depend on the vendor-developers to add new features.
Examples of e-learning authoring tools
PinLearn – Pinlearn is an e-learning authoring tool with abilities to build your own e-learning marketplace. With multiple monetization options, you can instantly create, upload and sell online courses within hours of setting up your website. More importantly, you can do all that without any prior coding knowledge. The software remains a preferred option for entrepreneurs who want to launch an EdTech business of their own like Udemy.
Articulate Storyline – Articulate Storyline is a powerful Windows-based e-learning development tool with extreme similarity to that of Microsoft's PowerPoint. It offers a great feasibility to have a complete control over the look and feel of your courses. It might be a little complex to learn. However, once learned, it offers extraordinary flexibility in adapting to branding and course personalization necessities.
Author Bio
Kathy Alameda is a content strategist at PinLearn. She develops educational technology plans and online learning strategies for schools, businesses, universities in the US & Other country. She is also an author and researcher on effective e-learning programs.