Even though you must maintain a strict budget, you are human and are social animal. You enjoy going our and about on the town with friends. You do like to partake in adult libations when you visit a bar or nightclub.
There are techniques you can utilize you drink at bars and nightclubs and not go financially overboard.
In other words, there are some specific strategies that you should bear in mind when it comes to saving money when you go out for a night on the town.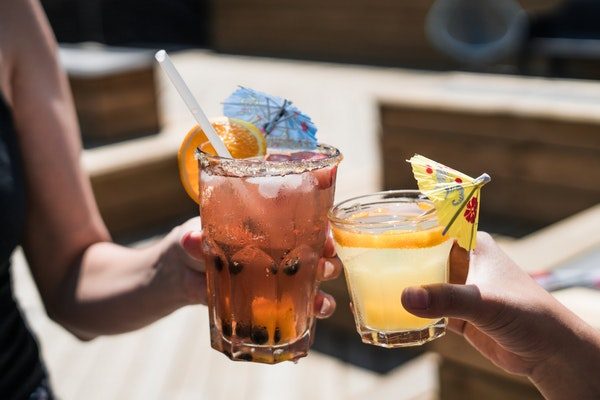 Enjoy Happy Hour
Liquor laws do vary from one state to another. With that said, in many jurisdictions in the United States, happy hours are lawful and provided by many bars and nightclubs. One way that you can save money when head off to a bar or club is to take advantage of happy hour.
Historically, bars provided happy hour in the late afternoon and early evening. Nightclubs hosted happy hour in the early evening.
In recent years, many bars and clubs offer a twice a night happy. These establishments have happy hours both in the early evening (or later afternoon for bars) and late at night.
Take Advantage of Drink Specials
When visiting a bar or nightclub, inquire as to what drink specials are being offered. You may not always be able to find a drink or alcohol type that appeals to you. However, oftentimes you will be able to find a bar special that is appealing to you.
In addition, if you at adventurous, you may be able to discover a new adult libation that you end up enjoying a great deal. You can save what amounts to a considerable amount of money by taking advantage of drink specials.
Purchase Cheaper Beverages
If you are like most people, you have favorite adult libations. These may be more expensive than well selections. You can save what can amount to a considerable amount of money when you go out and about on the town when you select lower cost alcohol — well alcohol.
The price different can be a couple of dollars to upwards to $10 or more per serving.
Pair Up an Adult Beverage with a Water
You can save money on your bar tab if you pair up each cocktail, beer, or wine with a glass of water. This slows down your drinking, and fills up. In addition to saving you money, this strategy also keeps you hydrated while enjoying alcoholic beverages. It also is likely helpful in lessoning the symptoms of a hangover if you do end up drinking a bit too much when out on the town at a bar or nightclub.
Beware of Costs of Local Craft Brew
Supporting local businesses is important. However, if you are going to purchase local craft brews while enjoying a night out, you need to be aware of what you are paying. You may be like many people who think domestic beer when you purchase locally.
Yes, you technically are buying a domestic beer when you purchase a local craft brew. However, you will be paying a premium price for the brew, unless the venue is offering some sort of special.
Drink at Home
A solid way of saving money on you bar tab is not having one at all. In other words, rather than party with your friends at a bar or nightclub, stay home and do it there. You truly can save a notable amount of money if you visit the neighborhood liquor store and imbibe with your friends from the comfort of your own home. This is not a permanent solution.
However, by partying at home sometimes, you can save more money to be used when you elect to go out on the town.
Take Cash Only
Time and again, people partying in bars and clubs rack up surprising bar tabs because they use credit or debit cards to pay off their obligations. When you are not handing over cash to a bartender, you easily can lose track of how much money you are spending while on the town.
For this reason, when you intend to spend time at a bar or club, bring along only case. Make all of your alcohol purchases with cash.
"Pre-drink" at Home
Before heading out for a night on the town, have a drink or two at home. This can help you get relaxed for a fun night out on the town. You can also knock down your bar or club bill when you do drink at least a bit at home before going out.
Jessica Kane writes for TIPS Alcohol Training, offering TIPS responsible alcohol service training online for both on and off premise needs.