Every year, certain trends associated with web design head into the forefront. Beginning in 2016, a major shift took place that significantly impacted web design, a trend that will continue to come to fruition in 2018.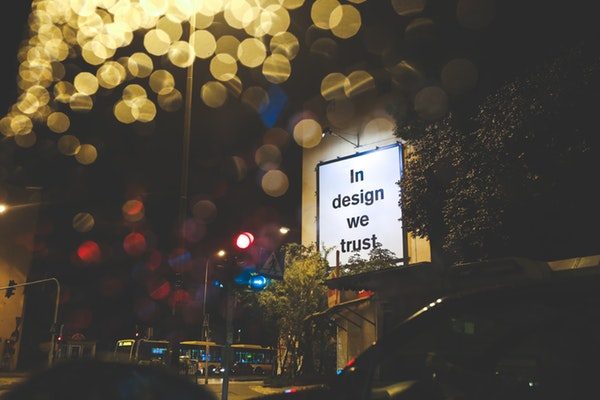 In 2016, mobile device finally overtook desktop usage. During the coming year, remarkable innovations will be implemented to more fully implement mobile functionality. In addition to innovation, other trends associated with web design will have an even sharper focus on mobile usage than historically has been the case.
Smarter Use of Negative Space
One trend to keep an eye out for in 2018 is the smarter utilization of negative space in web design. White (or blank) space is nothing new when it comes to website design. The issue is how to best address it and how to make the best use of it. This objective became ever more important when mobile devices became the primary route a majority of people now access the internet.
What's out in 2018 is gimmicky designs. Even static images are taking a back seat to other concepts in addressing negative space. The mantra for 2018 for addressing negative space is to make it more meaningful, give it an actual purpose. Negative space is going to be addressed with a primary objective of increasing conversions.
Rather than graphics or gimmicks, a cinemagraphs will be far more common solutions to address negative space. For example, a cinemagraph might be used to demonstrate a product or service. In the end, negative space will direct attention to conversion or other engagement without any distractions.
As an aside, clean and simple pages had become the buzz in 2017. That will continue in 2018. Indeed, clean and simple will go to a whole new level during the coming year.
Bold, Brilliant Typography
Time and again, even the best web designers have treated typography as something of an afterthought with startling regularity. A trend you will see in 2018, that is tied in with anticipated minimalistic styling, is the use of typography as a design element.
A change you likely will notice is the replacement of some images with typographical design concepts. You'll see more artistic and colorful fonts taking the place of images in some cases.
The trend to bolder, brilliant, and more vibrant fonts ties in solidly with the movement towards mobile access to the internet becoming the primary portal for a majority of people. A heavier reliance on typography over images and complicated graphics fits the objective of cleaner and simpler web design concepts.
Cinemagraphs
Cinemagraphs were mentioned a moment ago in relation to the smarter use of negative space. If you are like many people, you may not yet be well versed in cinemagraphs. You can think of a cinemagraph something that lies between a full blown video and a static image.
The rapidly expanding use of cinemagraphs is one trend you definitely will notice in web design in 2018. These quick snippets of compelling imagery will be utilized to draw attention to vital points on a website page.
There has already been a decent amount of research done on the value of cinemagraphs. They have been demonstrated effective at increasing conversions and enhancing engagement, which obviously are the two primary goals of a business and its website.
A variety of different types of cinemagraphics will be in ever increasing use during 2018. One of the more common derivations with be 360 degree cinemagraphics that present a product or some other information in a compelling manner.
Scroll Triggered Animation
Scroll triggered animation represents another web design trend that you will see far more office during the coming year. Although not new, scroll triggered animation will be used more often and differently in 2018.
Animation is no longer being created simply to add a bit of flare to a website. Rather, animation is not being utilized for a purpose.
Scroll triggered animation will be strategic, but it will also be designed in a minimalist manner, as will be the case with so many other aspects of web design. Triggered animation will be focused on increasing a websites conversion rate and enhance engagement. In addition, scroll triggered animation will also be used as a means of allowing people the ready ability to access more information about a brand, product, service, or business.
Progressive Web Apps
Apps rule. At the beginning of 2018, Apps account for almost 90 percent of all mobile media time. A trend that you will really see take off in 2018 is the blending of traditional app behaviors with those more commonly associated with websites. This app and website hybrid has been given a name: progressive web app.
Overall, progressive web apps largely are in the development stage. With that said, there will be an increase in the upgrading of existing apps during the coming year to add more website-like functionality. This will include such things as push notifications, offline mode, and splash screens. If you want to take a look at progressive apps in action, Twitter and the Washington Post are already making use of this technology.
As the development of progressive web apps continue and are put into wide use, you will also see refined cognitive capabilities that will include a greater dependency on natural language processing as well as automation. In other words, progressive web apps will "learn" and be able to better react to your personal preferences.
Intelligent Conversational Bots
Intelligent conversational bots will be front and center in 2018. This will particularly be the case when it comes to the functionality of mobile apps.
Intelligent conversational bots are likely to be implemented in a myriad of highly creative ways. By way of example, intelligent conversational bots might be programed into a question and answer page. Intelligent conversational bots will be seen providing answers to basic questions about such things as store hours. Once to type in a URL, you will be presented to a virtual helper capable of intelligent conversation with you.
Natural Language Processing
On a related note, one of the web design trends to be on the lookout for in 2018 is an ever expanding use of natural language processing. Thanks to ever more refined natural language processing technology, you will be able to access different app and computer functions by using everyday language.
It's all going to be rather like having a restaurant server provide you with menu information as opposed to being handed a menu itself that you have to read and muddle through.
Micro Interactions
Facebook is where we have really seen micro interactions arise in popularity. During the past year, rather than just merely like items at Facebook, you can express an array of different reactions. This variety results in a more expansive user experience.
Micro interactions make user engagement like posting reviews easier. Historically, this has been a more complicated task and required a number of steps on the part of a user. Those steps alone oftentimes were big enough speed bumps to prevent a user from following through with a type of interaction like a review. In the final analysis, micro interactions break down at least some significant communications barriers. Micro interactions increase connectivity and speed.
Increased Value of Facebook
Speaking of Facebook, that social media platform will have even more increased value in 2018. Indeed, there arguably is now a serious digital marketing trend that is resulting in Facebook becoming of equal value to the traditional website. Indeed, in some industries, some businesses have taken the positon that Facebook has now become more valuable to them than a traditional website.
When it comes to 2018 website design trends, what seems to be happening in regard to Facebook cannot be ignored. Facebook itself recognizes what it sees as a solid trend and is striving mightily to become a strong destination to provide what businesses historically had gleaned from their own websites.
How the apparent trend towards the increasing value of Facebook finally plays out is not yet certain. During what might be something of a transitional period, it is important that web design take Facebook into account.
If nothing else, a typical business is going to need an appropriate connection between its website and Facebook page. Moreover, this interaction cannot just take the form of backlinks.
Secure Web Pages
Malicious hacking seemed to rise to a whole new level in 2017. As a result, trust and security issues are likely to dominate a great deal of internet issues in 2018. This will include a sharp focus on trust and security when it comes to web design.
As a result of what occurred in 2017, website visitors are going to be more conscious of security issues. They will be looking for websites that have strong security features. In addition, they will be looking for succinct information about what a particular website is doing in the way of security. Not only will website visitors be looking for this information on homepages, which has been the standard, but throughout a site and on all webpages.
Placement of Sticky Elements
Historically, with the primary use of desktop computers to access the internet and websites, navigation occurred from the top. Sticky elements were placed at the top of webpages.
With the rise in the use of mobile devices, navigating from the bottom up is becoming the norm. As a result, web designers are responding appropriately.
A trend you will see throughout 2018 is a movement of navigation and other sticky elements on websites to the bottom of pages.
Broken Grid Layout
A true website design trend you will see in 2018 is the use of what best can be described as a broken grid layout. Essentially, many website designers will be losing the design grid all together.
The net effect of the reduction in the use of the long-used grid design structure will be an increase in the number of websites that make unexpected and yet stunning visual presentations. This will include a potentially more vibrant visual presentation on desktop and mobile versions of websites.
Enhanced Page Transitions
Page transitions have been in a static mode since the dawn of the webpage. No matter what tricks were done in web design, there was always a break when a website visitor went from one page to another. What we have learned, that break in continuity results in a drop in conversions and engagement.
In 2018, you will start to see web design concepts that make page transitions, that make going from one page to another, more akin to a smooth movement rather than a break. This will enhance the overall visitor experience at a website. It will also increase conversions and engagement more generally.
Floating Navigation Menus
A notable, and practical, web design change you will see more of in 2018 is the floating navigation menu. There really is nothing fancy about this change that will be trending in 2018.
Rather, it is happening in response to website visitors who are always in search of ways in which they can more rapidly access different elements and pages of a website.
Content Hubs or "Webbooks"
Finally, a 2018 web design trend is that written content has been making something of a comeback in the past two years. Prior to that, the mantra among designers seemed to be pare down written content on websites. That will all change in 2018.
In 2018, look for more extensive website content hubs. These are hubs that contain a significant amount of well-written, useful information. Some have taken to calling this type of content hub a webbook. Longform content will become the norm in the not too distant future, with tremendous project made towards that reality in websites designed and updates in 2018.
Conclusion
The web design trends are things to look for throughout 2018. With that said, as is the case every year, before too long there will be something unexpected happening in the way web design trends. Indeed, something may pop up in the way of web design that is both unexpected and revolutionary.
Jessica Kaneis a professional blogger who writes for Faxage a leading company that provides Internet fax service for individuals and businesses.