In high school we liked to calculate simple interest and mostly hated compound interest because the formula was complicated. In life, once you see how compound interest works, you will change your opinion.
Let's do some math. Don't worry, we will use a calculator designed to calculate compound interest to make things easier.
Here are our assumptions
We invest 1000 INR each month.
Interest compounds annually.
Annual rate of interest is 12%.
At the end of first year, this is what it looks like: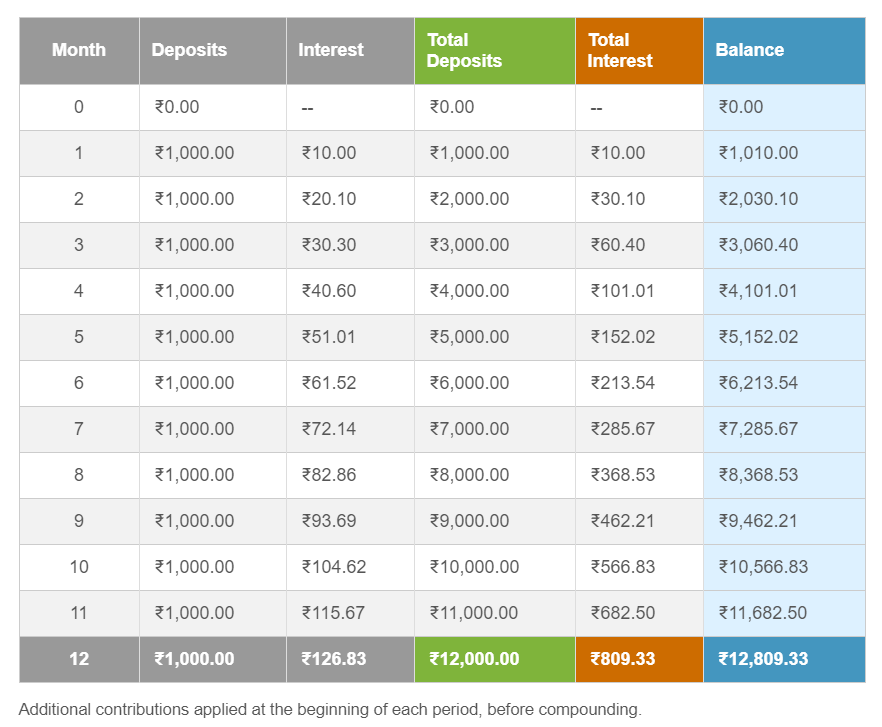 We have invested a total of 12,000 INR
Total interest earned is 809.33 INR
Total corpus is 12809.33 INR
At the end of second year: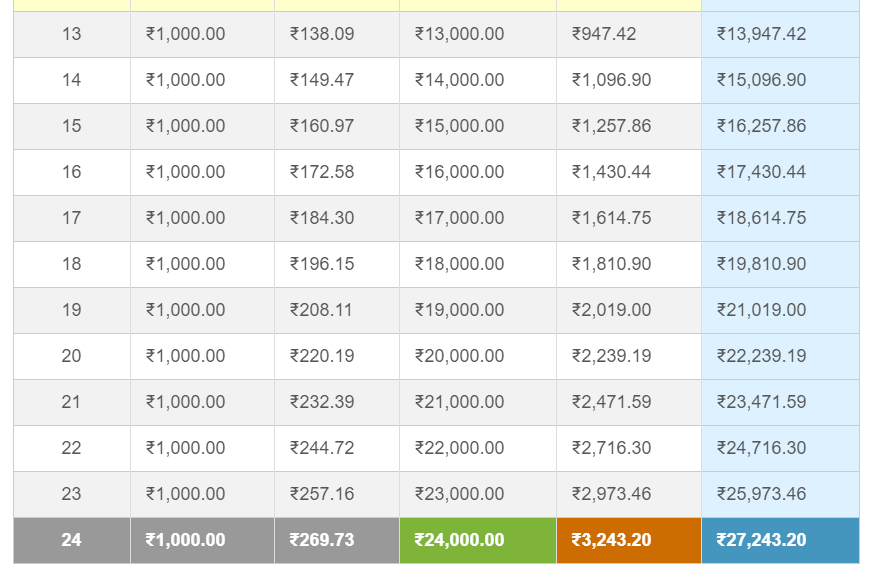 Total invested so far is 24,000 INR
Interest earned so far is 3,243.20 INR
Total corpus is 27,243.20 INR
Interest earned in first year was just 809.33 INR. In the second year, total interest earned is 3,243.20 INR. This is a glimpse of compound interest at work!
Let's keep going. At the end of 5th year: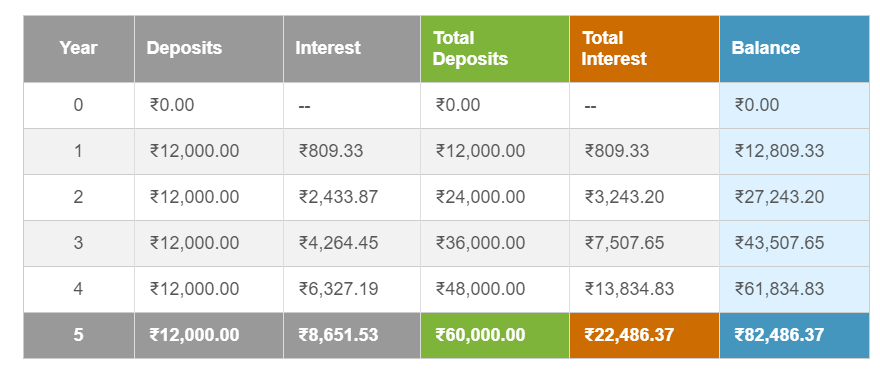 At the end of 10th year: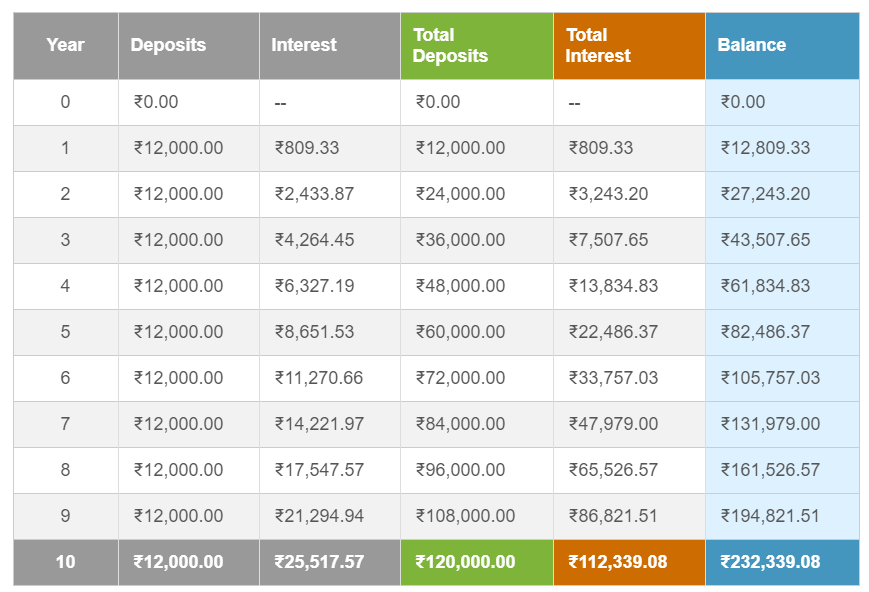 At the end of 20th year: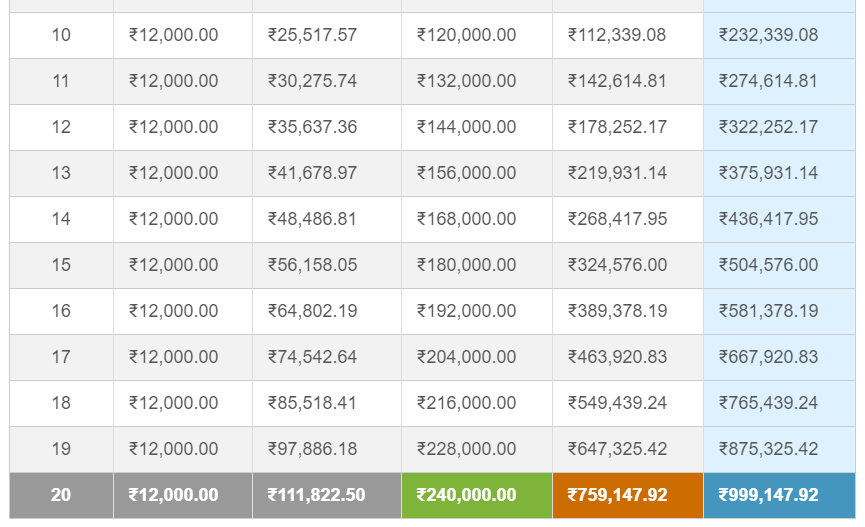 At the end of 30th year: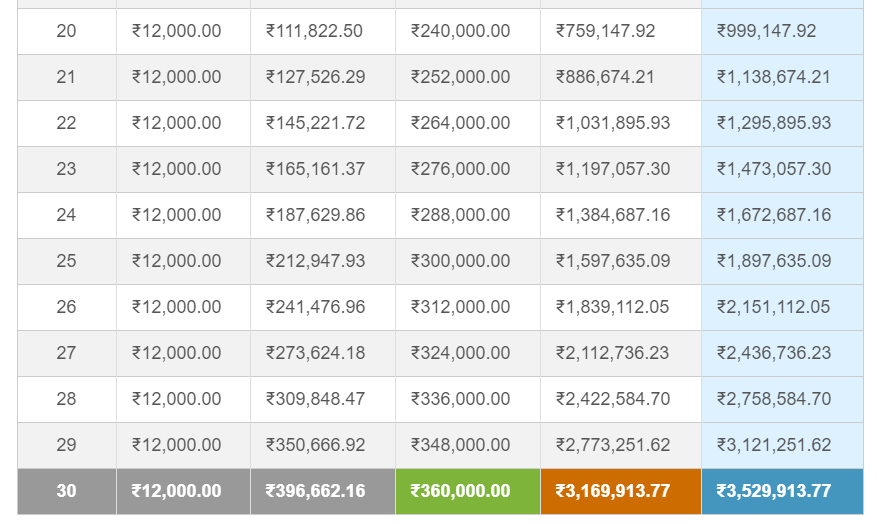 By year 30 total interest earned is over 31 lakh!
Total corpus is over 35 lakh!
Just see how much of the total corpus is just interest? You contributed way under 4 lakh to the total corpus.
Here is another representation of what just happened: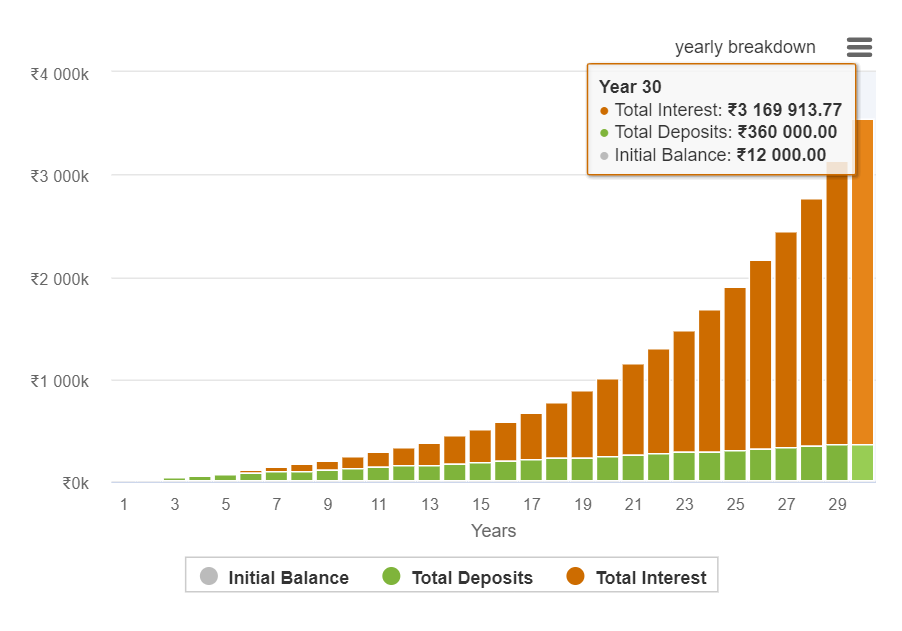 Start Early
As year go by interest grows exponentially, so it's very important to start early. The whole point of writing this series is to pass it on to my cousins and to inspire them to start early.
Check out the final balance at the end of 20th year v/s that of 30th year. A 10 year head start could be the difference between "doing okay" and "comfortable".
Start with your first paycheck! Of course after treating yourself and your loved ones. Invest at least 500 INR.
Even better, start with your pocket money while you are in college! One key advantage of starting that early is that your loses will be small and you will get a feel of what it is like to grow your money. By the time you get your first paycheck you will have above peer-average financial wisdom.
While I had always invested money in FD's and other classical middle-class instruments, my real investment journey began thanks to @TheAnand 🙏🙌